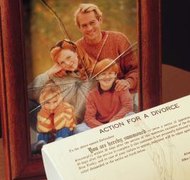 A divorce begins with a petition or complaint asking the court to dissolve the marriage. Since the spouses are both parties to the action as well as the subject of the action, their names appear in different forms throughout the document. The names of minor children are also listed in a divorce filing.
Spouses' Roles in Lawsuit
A divorce is a legal action and each spouse has a particular role in the lawsuit. The spouse initiating the action is termed the petitioner in some jurisdictions, the plaintiff in others. The spouse receiving the papers may be called the respondent or the defendant. The court caption in the initial divorce filing lists each spouse by role followed by full legal name. For example, the caption might read: Petitioner Mary Smith Jones versus Respondent John Richard Jones. The form may also refer to the spouses as petitioner and respondent throughout the filing.
Minor Children
If the divorcing couple has minor children, the initial filing form provides a space to list their names. Some jurisdictions also ask for the age, birthdate and sex of each child.
Name Change
In some jurisdictions, a spouse who has taken the other spouse's surname during the marriage can request that the court restore her prior name. To make this request, you must check the box indicating that you seek such relief, then list the name you wish to have restored.