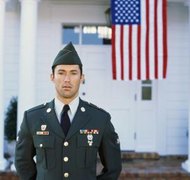 For spouses of active or retired military personnel, service-based retirement benefits can be one of the largest assets to divide in divorce. In Florida, the classification of a military pension as a marital asset, as well as the availability of additional benefits to the non-military spouse, will hinge on the length of marriage and timing of service. Provided the eligibility requirements are met, the pension will be divided according to the principles of fairness under Florida law.
Residency Requirement
In order to file for a divorce in Florida, the residency requirement must first be met. This means that you or your spouse must have either resided in or been stationed in the state for the six months leading up to filing. However, the divorce may be postponed if your spouse is currently deployed. Typically, a postponement of the divorce will be granted until the spouse has been home for 60 days, although if both spouses want to proceed with the divorce, it's possible for the deployed spouse to waive his right to a postponement.
Equitable Distribution
As in any divorce, marital property must be divided. Martial property includes all property acquired during the marriage, excluding inheritance and gifts. Florida is an equitable distribution state. This means that if parties cannot agree, the court will divide the property based on what is deemed fair, after considering several factors outlined in state law. These factors include the length of marriage and the age of the parties, as well as any non-monetary contributions that increased the value of the marital assets.
Treatment of Pensions
If your spouse has a Navy pension, the length of your marriage and timing of service will play a role in how this property is treated during the divorce. Military retirement benefits are governed by the Uniformed Services Former Spouses' Protection Act. This is a federal law that allows states to categorize military pensions as assets subject to state rules on property division. Florida law requires the parties to be married for at least 10 years, and at least 10 years of active service needs to be completed during the marriage. This is known as the 10/10 rule and, provided its conditions are met, any retirement benefit that accrued from the service is classified as a marital asset subject to division as part of divorce.
Additional Benefits
In addition to the 10/10 rule, further benefits are available to the non-military spouse for longer marriages. If the parties were married for at least 20 years, and during that time, at least 20 years of active service was completed, the 20/20/20 rule applies. This rule provides non-military spouses with additional benefits, including full commissary, exchange and health care benefits. As part of these benefits, the non-military spouse can utilize TRICARE and inpatient and outpatient care at a military treatment facility. Nonmilitary spouses that were not married for the required period automatically lose these benefits when the divorce is final.