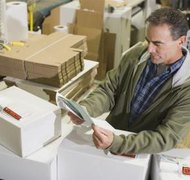 While corporations are a popular business type for large companies with many employees and shareholders, small business owners and nonprofits also can take advantage of this structure and incorporate. Knowing what goes into the Articles of Incorporation and the necessary tax documents required at the state and federal levels will help get your business off the ground smoothly.
Overview
To officially start business operations as a corporation, the incorporators must first file Articles of Incorporation with the local Secretary of State or comparable state department or agency. Think of the Articles of Incorporation as the constitution of the company. States vary on the requirements, but the most common information required includes the name of the company and address, name and address of the registered agent, names of the incorporators and directors, business purpose and stock information. In many states, a corporation has to file its first annual registration form with the Secretary of State within 90 days of incorporation. The form generally must list the three principle officers and requires a filing fee.
S-Corp Election
One of the perceived disadvantages of a traditional corporation is the principle of "double taxation." This refers to the fact that the company is taxed first on all income generated and then at the individual level when shareholders are paid dividends. However, certain qualifying corporations can effectively avoid this tax treatment and register with the Internal Revenue Service as an S-corporation. S-corp status applies only to smaller companies with fewer than 100 shareholders and is not available to certain financial institutions or insurance companies. To make an S-corp election, the IRS requires the filing of Form 2553, signed by all shareholders.
501(c)(3) Status
If a corporation is organized around a purpose other than achieving a profit, it may be eligible for 501(c)(3) tax-exempt status with the IRS, which can eliminate the requirement to pay federal corporate income taxes. The IRS requires that the organization file Articles of Incorporation, including a Statement of Purpose, which must contain special language indicating the corporation is organized exclusively for charitable, religious, educational or scientific purposes.
Additional Paperwork
At the state level, a nonprofit corporation must check with the appropriate local government agency to determine whether additional paperwork is required, such as filing with the charities division if the organization will be soliciting donations. In Minnesota, for example, nonprofits are required to register with the Attorney General's Office and file an annual report. In addition, the nonprofit will need to file for both federal and state tax exemptions. This is accomplished at the federal level by filing Form 1023.