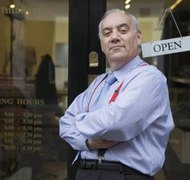 A sole proprietorship is a business owned by one person who assumes all the debts and liabilities for the business. It is a common business structure, because it is simple to set up, and it has fewer filing requirements than an incorporated business, such as a corporation. In Indiana, business registrations are handled by the Secretary of State, but since sole proprietorships are not independent entities, the state does not require them to register.
Assumed Business Name Registration
Sole proprietorships are not required to register with the state. However, if you decide to do business using a different name than your own, such as in a Doing Business As, you must file a Certificate of Assumed business name with the county recorder in every county where you plan to do business. You are not required to file your business name with the Secretary of State.
State Licenses and Permits
The state of Indiana requires a number of businesses to obtain additional licenses. The state regulates more than 400 different business activities, including enterprises that sell alcohol or food, or those that operate day care centers. Different activities are regulated by different departments, and you must contact the appropriate department for licensing. For example, in Indiana, the Department of Family Resources regulates day care centers, whereas businesses that provide financial services are regulated by the Department of Financial Institutions. Further, if you are doing work in a professional capacity, such as accounting or medical care, you are likely to be required to pursue professional licensing with the state.
Tax Registration
Sole proprietorships are not required to pay business tax. However, depending on the type of business you have, you may be responsible for a number of other state taxes. As a new business, you must register with the Indiana Department of Revenue if you have employees, or if the sole proprietorship is responsible for any taxes to the state. State taxes may include sales tax, food and beverages tax, innkeeper's tax, tire fees, or safety fees for firework sales. To register, you must submit a Business Tax Application to set up the appropriate tax accounts.
Local Licenses and Permits
Depending on where you are located in Indiana, you may be required to obtain a number of additional permits and licenses. Some cities or counties require all businesses to obtain a business license, whereas other towns may require you to obtain a permit to change a sign or do any construction. You should contact your city or county clerk in all the counties where you plan to do business, to determine if you have any additional permit or license requirements.