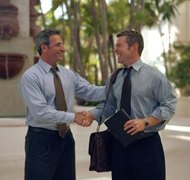 When opening a new company, registering the company according to Florida law is an important first step. Failing to register your company with the state may result in severe consequences, including fines. In addition, depending on the type of business, the requirements for new company registration may differ. Therefore, contact your county to determine if any additional steps must be taken to register your new company in Florida.
Step 1
File your company's Articles of Incorporation with the Florida Department of State. The Articles of Incorporation must include the company's name, a physical address located in Florida and the names and addresses of all owners of the company. In Florida, a company can be one of several legal entities including a corporation, sole proprietorship, or limited liability company. However, it is not necessary for a sole proprietorship to file incorporation documents with the Department of State.
Step 2
Contact your local city office to determine if you must obtain a permit to operate your company. For example, if you are opening a restaurant, you may need to apply for a liquor license with the county. In addition, confirm with the local city government that you can operate your company in your chosen location according to the city's zoning restrictions.
Step 3
Register the company's fictitious business name with the Florida Department of State, Division of Corporations, if applicable. A fictitious business name allows your company to conduct business under a name that is different from your own name. If you registered with the state as a partnership, sole proprietorship, existing corporation or limited liability company you may need to register a fictitious business name. The state will collect a fee at the time of registration.
Step 4
Contact the Florida Department of Revenue to obtain a Certificate of Registration to enable you to collect Florida sales tax. According to the Florida Small Business Association, you can register online for the Certificate of Registration, and no additional fee is required.
Step 5
Apply for an Employer Identification Number from the Internal Revenue Service. You will use your EIN to identify your business on all of your tax returns and pay stubs that you provide to your employees and the federal government. Receiving an EIN can take time, so be sure to apply for the number as far in advance as possible.
Step 6
Open a bank account for the business. It is a good idea to maintain a separate bank account for your company to keep your business transactions apart from your personal finances.
Tips & Warnings
If you have any questions about how to register a new company in Florida, contact a licensed Florida attorney. A trusted legal website can also perform many of the steps necessary to assist you in registering your company.
Photo Credits
Creatas/Creatas/Getty Images