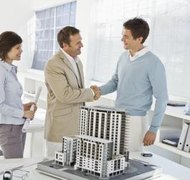 Like other business structures, partnerships vary by state and offer advantages and disadvantages depending on the type of business and the relationships among the business owners. In New Mexico, some partnerships are governed by the Uniform Partnership Act, while others are governed by the Uniform Revised Limited Partnership Act, found in Article 2A of Chapter 54 of New Mexico's statutes.
Partnerships
Business owners can form a general partnership, allowing each partner to have a say in the management of the business. This type of partnership does not require any formal agreement or filing with the state. However, general partnerships do not allow any partner to have less control or more liability protection than other partners. In New Mexico, business owners can form a limited partnership in which general partners are responsible for all of the business debts, but limited partners are liable only to a limited extent. Limited partnerships, including limited liability partnerships, must be registered with the state and must follow the requirements of New Mexico's Uniform Revised Limited Partnership Act.
Forming a Limited Partnership
Limited partnerships may be formed by filing a certificate of limited partnership with the New Mexico Secretary of State. The certificate must include the name of the partnership, its address, the name and address of the business's registered agent and the name and address of each general partner. The certificate can include other information about the business if the partners wish to include more. Once the secretary of state accepts the certificate, the business is formed as a limited partnership.
Partnership Duties
Partnerships come with responsibilities, and these duties are included in New Mexico's partnership laws. A general partner, or example, owes the business some duties of care and loyalty, meaning he cannot deliberately make decisions that are against the business's best interests. However, this does not mean he cannot make decisions that are also in his own personal best interests. The business's limited partners do not have duties to the partnership but must perform responsibilities as outlined in the partners agreements. For example, if the limited partner agreed to provide a certain amount of money for the business, he must actually provide that money.
Reports
A partnership's reporting duties do not end when the business files its initial certificate. The business must file an annual report with the secretary of state between January 1 and April 1 of each year. The report includes the partnership's name, its address and the name and address of its registered agent. If the partnership does not file this annual report on time, the secretary of state can revoke the partnership's authority to do business in the state after giving the business at least 60 days' written notice.