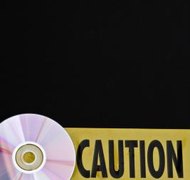 Copyright law protects original works of authorship, including artistic creations and software algorithms. A copyright does not have to be registered to be enforceable, although registration does offer significant legal benefits. The original author may not be the copyright holder: a novelist, for example, may have sold his copyright to a publishing company. If you can locate the copyright holder of a work you want to use, you may be able to obtain permission to use the work.
Step 1
Determine if copyright law allows your intended use of the work. If it does, you don't need permission from the copyright holder. The "fair use" exception to copyright law allows you to use a limited portion of a copyrighted work for purposes such as criticism, education or parody.
Step 2
Search for the copyright holder on the website of the Copyright Clearance Center (please see Resources section), if your intended use does not fall within one of the exceptions. This site allows you to obtain copyright permission and also offers information on the terms of use imposed by copyright holders.
Step 3
Search the U.S. Copyright Office files of registered copyrights to find out who holds the copyright to the work you want to use, if you can't find the copyright holder through the Copyright Clearance Center. The Copyright Office maintains a search page on its website (please see Resources section). If you want to use a work registered before 1978, you must either conduct a manual search at the Copyright Office in Washington, D.C., or pay the Copyright Office $165 per hour to conduct a search for you.
Step 4
Identify the author or publisher of the work, if its copyright is not registered. If the work contains a copyright notice, this information might be included. A party identified in a copyright notice was the copyright holder at the time the work was published.
Step 5
Contact the author or publisher and ask who currently owns the copyright to the work. If the party you contacted does not currently own the copyright, contact the current copyright holder.
Step 6
Send a written request for copyright permission to the copyright holder. Your request should identify you, state exactly which parts of the copyrighted work you want to use, and state exactly how you want to use it. Different copyright holders use different processes to grant copyright permissions. A large publishing company, for example, might send you a standardized form.
Step 7
Negotiate terms of use. The copyright holder might demand restrictions that interfere with your intended use of the work. If your intended use is not extensive, the copyright holder might allow you to use the work free of charge. If not, then negotiate a price.
Step 8
Draft a written copyright agreement, sign it and have the copyright holder or a representative of the copyright holder sign it. Keep a copy of the agreement with original signatures to protect you against false claims of infringement.
Tips & Warnings
Infringement of a copyright can subject you to civil and possibly even criminal penalties.
Photo Credits
Jupiterimages/Photos.com/Getty Images