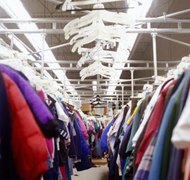 To open a 501(c)(3) thrift store in New Jersey, there are a number of state and federal obligations. Before any organizing documents are filed, the nonprofit must first have a board of trustees and an established charitable purpose. From that point, the organization must incorporate within the state, and then must complete the demanding application for 501(c)(3) status. Once exempt status is acquired, charities have a number of obligations to remain in compliance with IRS regulations.
Step 1
Form a board of trustees. The board will govern the nonprofit, draft bylaws, set the mission and strategic plan, and hire an executive director if deemed necessary. The board will draft the mission and purpose to reflect the store's charitable purpose, which generally includes relief of the poor, distressed or underprivileged.
Step 2
Select a name and check its availability. Visit the New Jersey Department of the Treasury website. Under "Business Names," select "Check Business Name Availability." From there, click "browse names online" to complete a free search. You may also call the number at the top of the page to have the service look up a specific name for you for a fee.
Step 3
Apply for an Employer Identification Number (EIN). Visit the IRS EIN application page. From there, click on "Apply Online Now," and follow the onscreen instructions. The application will only take about 15 minutes, and you will have an EIN instantly.
Step 4
File a Certificate of Incorporation with New Jersey Department of Treasury, Division of Revenue. In order to be approved for 501(c)(3) status with the IRS, include specific phrases to clarify that the organization is compliant with the relevant IRS regulations. The required language must state the organization's charitable purpose, and state that no members, officers or directors will receive net earnings above reasonable compensation for services rendered. Further, state that there is a limitation on political activity, and include a provision providing that if the nonprofit dissolves, the assets will be distributed for an exempt purpose.
Step 5
Fill out Form 1023 in application for 501(c)(3) status. The form is quite detailed in nature, and requests specific information about the charity's activities, fundraising, board members, and finances. Once completed, the IRS may take several weeks to several months to make a determination as to exempt status.
Step 6
Send a letter to the New Jersey Department of Treasury, Division of Taxation, to request a determination letter recognizing the charity as a New Jersey Corporation exempt from income tax. File for a State Sales Tax Exemption Certification with Form ST-5. If you plan on soliciting donations, register with the New Jersey Office of Charities. At this point, you will be ready to select an appropriate location, collect donations, and open for business.
Step 7
File form 990 with the IRS on an annual basis. File the Corporate Annual Report with the state of New Jersey. Maintain detailed records of all board meeting minutes, donations received, and expenses. Your activities must always remain consistent with the charitable mission of the organization.