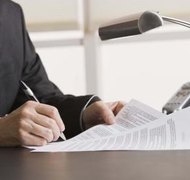 A dismissal ends your bankruptcy case and can have severe consequences. For example, if your bankruptcy case is dismissed, you will not receive a bankruptcy discharge and your creditors can continue to contact you and pursue legal action against you. In contrast, if you complete your bankruptcy case, the court will grant a discharge and all debts that are part of your bankruptcy case will be erased. There are several ways that you can determine the status of your bankruptcy case in Alabama.
Step 1
Contact the clerk of the bankruptcy court in the district where you filed your case to learn whether your bankruptcy case has been dismissed. You can contact the clerk by dialing the bankruptcy court's phone number in your region during normal business hours.
Step 2
Call the bankruptcy trustee to see if your bankruptcy case is dismissed. The bankruptcy trustee is the person appointed by the bankruptcy court to handle the administration of your bankruptcy case. In many instances, the bankruptcy trustee is the only person you will see during your bankruptcy case.
Step 3
Register for PACER (Public Access to Court Electronic Records), a website maintained by the Administrative Office of the United States Courts. PACER provides online information about all cases filed in bankruptcy court. Registration for PACER is free and can be completed online. PACER charges a nominal fee per page retrieval above a specified number of pages per quarter. You can search for your case using either your name or the case number.
Tips & Warnings
To make filing for bankruptcy easier, you can use an online legal documentation service or hire an attorney to help you prepare and file your bankruptcy paperwork.

Chapter 7 bankruptcy is a liquidation proceeding that involves selling property to raise funds to repay your creditors. A means test calculates your monthly income and expenses to determine whether your discretionary income is low enough to qualify for Chapter 7 bankruptcy. If you fail the means test, your Chapter 7 case will be dismissed. In addition, hiding assets that can be sold to raise funds for your bankruptcy case can result in a bankruptcy dismissal.

Chapter 13 bankruptcy enables you to repay all or a portion of your debt over three to five years, and protect your assets from liquidation, by creating a repayment plan based upon your income and monthly expenses. If you miss a plan payment or if you get divorced in the middle of your joint Chapter 13 bankruptcy, this can cause your case to be dismissed.
Photo Credits
Jupiterimages/Comstock/Getty Images