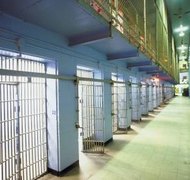 Information about the release dates of offenders in the Texas Department of Criminal Justice, formerly the Texas Department of Corrections or TDC, is in the public domain. The TDCJ maintains an online search page that allows you to search for the location and release date of any offender or parolee. You can also find out this information by phone or email. You need to keep in mind that the TDCJ can only supply you with the projected release date – the exact release date may change during the offenders' incarceration.
Online Search
Step 1
Perform an online search for "Texas Department of Criminal Justice Offender Information Search." The Offender Information Search page will be one of the top two or three hits. Navigate to this page.
Step 2
Conduct a search using the TDCJ online offender search page, by providing the required information. You need to know the offenders' state identification number, TDCJ number, or full name and birth date. The more information you have, the easier it will be to search.
Step 3
Enter the information in the search fields and click on the "search" button. A new page will open containing the release date information.
Things Needed
Inmate TDCJ number
Inmate full name
Inmate birthdate
Inmate state identification number
Tips & Warnings
You can also find a Texas inmates' release date by sending an email to classify@tdcj.state.tx.us. You should include the offender's full name and TDCJ number, if possible. If you do not know the TDCJ number, you should include the full date of birth or the age and county where the offender was convicted.

If you do not have access to a computer you can learn the release date by calling the Offender Locator/General Information Line at (936) 295-6371, or (800) 535-0283. In order to find out the release date by phone, you must supply either the inmate's TDCJ number, or his full name and exact birth date.
Photo Credits
NA/AbleStock.com/Getty Images