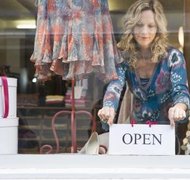 When you open a business in Oklahoma, you must comply with the rules and regulations of the state, the city where you do business and the federal government. The paperwork you must complete to begin operations depends largely on the specific type of business you are opening.
Business Name
Once you decide to open a business in Oklahoma, you'll want to determine that the name you choose for your business is available -- and no other business is using it. You can perform a name search on the Oklahoma Secretary of State website to determine if the name is available. If you are going to operate a sole proprietorship or partnership under a name other than your own, you will have to file a Trade Name Report with the Oklahoma Secretary of State if you want the exclusive right to use the name. If you are going to operate an LLC, corporation or other business entity that affords its owners with personal liability protection, meaning that creditors and others suing the business are limited to collecting from company assets rather than the personal assets of the owners, you can reserve a trade name with the secretary of state for 60 days prior to registering your business with the state.
Business Registration
If you choose to operate your business as an entity that offers you personal liability protection, you must file paperwork with the Oklahoma Secretary of State. For example, limited liability companies, or LLCs, must file articles of organization, while corporations must file a certificate of incorporation. The articles of organization must include information such as the name of the business, the address of the principal place of business and the name and address of the registered agent who will receive legal documents for the business. The certificate of incorporation must include similar information, as well as the purpose of the business and information about company stock. You can find articles of organization forms, certificate of incorporation forms, as well as other business forms on the Oklahoma Secretary of State website.
Business Licenses and Permits
The state of Oklahoma requires many businesses to obtain licenses. For example, you will need a state license to operate a hair salon, insurance agency or a plumbing service. The Oklahoma Department of Commerce handles business licenses. You can visit their website for a comprehensive list of all business that require licenses, as well as for additional information regarding licensing applications. If you are operating your business in an Oklahoma city, local regulations regarding licenses, building permits, and zoning clearances, might apply to your business. You should check with the city and county governments to determine if you need to file additional applications.
Taxes
You will need to complete paperwork if you are going to collect sales taxes and withhold employee taxes. The Oklahoma Tax Commission (OTC) determines your business's city and state tax obligations. You can call the OTC or visit their website to arrange to attend one of their tax workshops. You can register your new business with the Oklahoma Tax Commission by completing the forms on their website. If your business has employees, you must set up a withholding account for income taxes through the OTC and an account for employees' unemployment taxes through the Oklahoma Employment Security Commission. You can go to the IRS website to determine if you need an EIN, which is a taxpayer identification number, for your business -- and apply for one on the federal site if it's required.