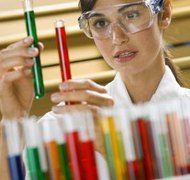 Whether it's a patented medical device, drug, plant, or gene product, it is likely that the resulting patent involved the biological sciences. Biologists meet with patent attorneys just as engineers do. The patentability of their innovations is balanced against the legal prohibition on patenting human organisms. The tension between this restriction and biological innovation is one of the hottest areas in intellectual property.
Plants and Bacteria
Federal law first allowed inventors to patent plants in 1930, when Congress enacted the Plant Patent Act. Under this law, the U.S. Patent and Trademark Office can grant a plant patent to inventors who can asexually -- from a single parent -- reproduce a plant that they invented or discovered. Other patentable biological products include genetically modified organisms, such as bacteria that consume spilled oil.
Patent Issues With Genes
Biologists and patent attorneys alike were interested in the 2013 case, Association for Molecular Pathology v. Myriad Genetics, Inc. In this case, the U.S. Supreme Court held Myriad could not patent the BRAC1 and BRAC2 genes, which are associated with breast cancer, because they did not actually invent them. But the court also ruled that a synthetic complementary DNA sequence that contained only those portions of the gene coding for proteins was patentable. This important ruling allows scientists to develop cures that will be protected by the law without patenting life itself.