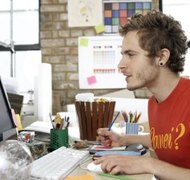 If you wish to protect your product or invention from imitators in Canada, you must file a patent application through the Canadian Intellectual Property Office. The process is fairly straightforward and includes the submission of application forms, descriptive drawings and other information regarding the product, requesting an examination, and payment of a filing fee. Online forms and instructions make patent applications somewhat easier for those averse to paperwork and mailing delays.
Step 1
Gather the required information, which includes your name and address, a complete description of your product in .pdf or .tiff format, and your claims for the product. "Claims" means the legal protections for the product that you want the CIPO agency to grant.
Step 2
Register at the Industry Canada website. Here you will create a new account with username and password. This allows you to access secured pages with which you can file an online patent application, or download the necessary forms for a hardcopy application. You may file the application through the mail by correspondence with Commissioner of Patents, Canadian Intellectual Property Office, Place du Portage Phase I, 50 Victoria Street, Gatineau, Quebec, K1A 0C9. You may also arrange an in-person interview with the patent examiner, or file your application in person, at the Gatineau office.
Step 3
Go to the Canadian Intellectual Property Office website and click on the button "Create a New Canadian Application for Patent." Once you begin the application, you may save it and reload it for work later on. The button for reloading is located just below the "Create a New Canadian Application for Patent" button.
Step 4
Upload your abstract, or brief summary of the product you intend to patent. Following this step, you must supply a specification. This is a complete description of the product and how it will be used, as well as your claims for legal protection of the product. When the patent is granted, any information and claims set out in this section of the application are protected from infringement.
Step 5
Pay a filing fee; in 2011, the standard application fee is $400. Canadian law allows for discounted "small entity" patent fees, which are half the standard rates, for universities and small businesses, defined as those with less than 50 employees. Receive an application number and filing certificate from the CIPO. The agency will classify your product in the appropriate field; eighteen months after the filing date, your patent application will be made public and available via the CIPO's patent database.
Step 6
Pay the required maintenance fees to keep your application file open. These fees begin on the second anniversary of your filing, and recur every anniversary thereafter. The fees began at $200 in 2011, and rise in subsequent years.
Step 7
Submit a request for examination, which can be done at the initial filing, and which carries its own filing fee. You must request the examination no later than five years from the date of your initial filing, otherwise the CIPO will consider the application abandoned. A patent examiner will review your application and your product on the basis of its novelty, utility and inventiveness.
Step 8
Receive an Examiner's Report, which explains any deficiencies in your application, or an Allowance notice, which informs you of acceptance. If your application is acceptance, you will pay a final fee; in 2011, the standard final fee is $300. If your application is rejected, you have the right to file amendments and other written material to overcome the examiner's objections. If the Commissioner of Patents renders a final judgment rejecting your application, you have the right to appeal that decision in federal court.
Things Needed
Patent application
Product drawings and specifications
Filing, maintenance, examination, and final fees
Tips & Warnings
You can search for similar patents in the CIPO's "Canadian Patents Database" page, accessible from the Patents main page.

You can apply for an early filing date by sending a statement requesting a patent, a description of your product, your name and address, and the filing fee to the CIPO. This will preserve your rights until you can file a more complete description and claims.

Filing, maintenance, examination and final fees are subject to change; consult the CIPO website for further information.

Granted patents in Canada are valid for 20 years from the date of filing.

Do not publish or communicate your patent idea publicly before you file. Your idea or product is not legally protected until the filing date, assuming the patent application will be eventually approved.
Photo Credits
Ciaran Griffin/Lifesize/Getty Images