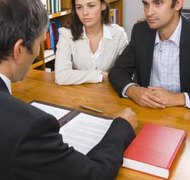 If you and your spouse racked up significant debts during your marriage, financial worries can exacerbate the emotional toll of divorce. In order to allow you to move on with your lives after the divorce with fewer financial obligations, bankruptcy is an option. A bankruptcy petition can be filed with a federal bankruptcy court by one or both spouses before or during a divorce proceeding in Pennsylvania.
Timing
Many couples choose to file for bankruptcy before they divorce because until the bankruptcy court has finished its work, a divorce can't be finalized. However, a no-fault divorce can be obtained in as little as three months if both spouses agree the marriage is irretrievably broken. Or, you can obtain a Chapter 7 bankruptcy in as little as six months and then pursue the divorce with fewer complications.
Chapters 7 and 13
Chapters 7 and 13 of the Bankruptcy Code enable you to discharge or modify some or all of your debts before or after your divorce is finalized. Under Chapter 7, debts such as credit card bills or medical bills can be fully forgiven and discharged. Chapter 13 bankruptcy is also a possibility -- it gives you a chance to pay your creditors under a court-approved installment plan. If you don't file for bankruptcy protection before your divorce is finalized, your debts will be divided during your divorce, either by coming to an agreement with your spouse or by the family law court.
Joint Bankruptcy
Filing for joint bankruptcy before divorce, as opposed to filing for individual bankruptcy after divorce, enables both of you to avoid potential liability for debts that survive the divorce proceeding, explains family law attorney Sheryl Rentz at the Pennsylvania Family Law Blog. For example, if the amount you owe on your credit card and medical bills is divided by the family law court and later your ex-spouse files for bankruptcy to discharge her debts, those creditors can come after you if you co-signed agreements to pay those bills. But if you file for bankruptcy jointly, this situation won't arise.
Undischarged Debts
Certain debts cannot be discharged in bankruptcy court. Spousal support and child support can't be wiped out under either a Chapter 7 or Chapter 13 bankruptcy. If you are past due on child support or alimony, bankruptcy offers no relief or protection. However, by discharging other types of debt in bankruptcy, such as credit card and medical bill debts, it will likely become easier to pay your remaining obligations and begin your new life in better financial shape.