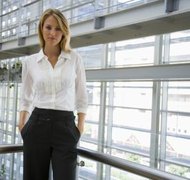 Forming a corporation allows you to escape personal liability for your company's business debts. Every U.S. state, including Pennsylvania, allows companies to incorporate. You don't have to do business in Pennsylvania to form a Pennsylvania corporation. Although Pennsylvania's corporate law is similar to that of other states, it does include a few unique features.
The Corporate Name
Before you file your incorporation paperwork, you must choose an appropriate corporate name. The name can't be the same as, or confusingly similar, to the name of another entity registered to do business in Pennsylvania. The name must also give some indication of its limited liability status, by including a suffix such as "Corporation," "Incorporated," "Limited," or an abbreviation of one of these terms. You can check the availability of up to three names at a time by calling the Pennsylvania Department of State at 717-787-1057. You can also reserve an available name for up to 120 days by paying a reservation fee.
Filing the Incorporation Documents
Unlike most other states, which require only the filing of articles of incorporation to form a new corporation, Pennsylvania imposes three requirements: The incorporators (typically the future owners of the shares) must prepare, sign and file both articles of incorporation and a docketing statement with the Pennsylvania Secretary of State. Filing the articles of incorporation requires payment of a filing fee. These forms are short and require only basic information about the corporation. The corporation must also publish notice of its formation in two newspapers, one of which must be a legal journal.
The Bylaws
The corporation must prepare a set of bylaws that address important issues of corporate governance. Pennsylvania does not specify the exact issues that the bylaws must address. However, most bylaws cover issues such as the appointment and dismissal of officers and directors, the transfer of shares, meetings of directors and shareholders and the division of authority between directors and shareholders. You don't have to file the bylaws with the state government, but you should keep a copy at corporate headquarters. Bylaws can be drafted either before or after the articles of incorporation are filed.
Post-Incorporation
Soon after filing the articles of incorporation, the corporation must convene an organizational meeting. The incorporator(s) hold this meeting if no directors were named in the articles of incorporation. If at least one director was named in the articles of incorporation, the director(s) hold the meeting. At the meeting, the incorporators or directors should appoint directors (if necessary), approve corporate bylaws, appoint officers, authorize the corporation to issue stock, authorize the corporation to open a bank account, and complete any other necessary preliminary matters.