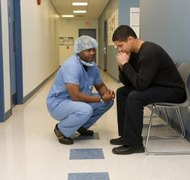 Related Articles
Pennsylvania has recognized living wills since 1992. A living will is not the same as a last will and testament, which takes effect after the death of the testator, or the person who makes the will. In most circumstances, a living will goes into effect immediately. It spells out the maker's wishes regarding the use of extraordinary measures to keep him alive if he becomes terminally ill or comatose and cannot communicate his decisions to medical staff.
Requirements
Chapter 54 of Article 20 of Pennsylvania's Statutes allows anyone over the age of 18 to make a living will or an advance medical directive. It must be signed by the declarant, or the person making it. It can also be signed by someone else at the maker's direction. Two adult witnesses must also sign the document. It is not necessary to have the living will notarized, but this can increase its validity if medical caregivers are in doubt.
Exceptions
A person younger than 18 years old can also make a living will in Pennsylvania if she is married or has graduated high school. Living wills of pregnant women are invalid unless the life-saving treatment would harm or kill her baby, or if the life-saving treatment would be physically harmful to her or result in unreasonable pain. Living wills do not apply to emergency treatment such as for an automobile accident.
Options
Pennsylvania law allows the maker of a living will to name someone to make medical decisions on her behalf if she can't do it herself because she is incapacitated. The state also permits provisions for organ donations in living wills.
Revocation
A declarant may revoke a living will at any time, either in writing or orally to a health care provider or other witness. The revocation becomes effective as soon as that witness tells the physician of the declarant's change of heart. The declarant does not have to be of sound mind to revoke his decision.
Physicians' Rights
If a doctor feels that she cannot comply with the wishes in a living will, Pennsylvania does not force her to do so. However, she is obligated to at least try to find another physician who will comply. No physician can face civil, professional liability or criminal charges for following the directives in a living will.