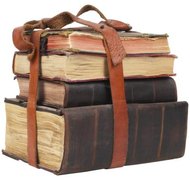 Copyrights grant exclusive rights to reproduce and sell intellectual property to the person who created the item or who purchased the rights to the item. Most literature is copyrighted, and literature does not need to be registered with the U.S. Copyright Office to have copyright protection. Because copyright violations can carry civil and criminal penalties, it's important to seek permission from the person who owns the rights to the item before copying it.
Step 1
Locate the person or entity that owns the rights to the item. Books typically have a copyright notice on the title page. The name or publisher next to the notice is the owner of the rights.
Step 2
Contact the person or entity that owns the copyright using the address printed near the copyright symbol. Explain the specific purpose for which you would like to use the item, and examples of the use. For example, if you plan to make copies to distribute to a political group, explain how many copies you will make and what specific sections of the literature you will be copying.
Step 3
Obtain written permission or a license to use the item. The notice of permission should be dated, contain an itemized list of the uses for which you have been granted permission and give contact information. Large publishers frequently offer licenses for pieces of literature, and these licenses almost always carry a fee. You must pay the fee and continue to renew the license for the entire time you use the copyrighted literature.
Tips & Warnings
Items published before 1923 are now considered public domain, and you do not need to seek permission to print them.

The fair use doctrine allows for limited copying for scholarly and educational purposes. For example, you can excerpt literature for a review and may be able to copy a few pages from a book to help teach a class. Commercial use, copying the entire work and reselling the item do not fall under fair use.

If there is no copyright page, conduct a copyright search through the U.S. Copyright office. You can conduct an online search for items copyrighted after 1978 by navigating to the U.S. Copyright Office's website and selecting "Search Copyright Information." Enter the author or title of the book. If you get no results, try different permutations of the author and title. For example, leave out articles or try entering only the author's last name. For most items published before 1978, records are not published online. Ask the copyright office to search for you. There is a small fee associated with this service.

Only use the item for the purpose the written authorization allows you to. Going outside the scope of your copyright permission is a violation of copyright law.
Photo Credits
PhotoObjects.net/PhotoObjects.net/Getty Images