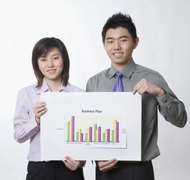 Limited liability companies have become popular business entities since states began passing LLC laws in the late twentieth century. Many states provide online LLC resources such as instruction guides, downloadable forms and web-based registration. Planning an LLC involves gathering all the required information needed to create the company and making sure you understand state LLC rules.
Gathering Information
Step 1
Download a business plan outline or template from Business.gov or the U.S. Small Business Administration website (see Resources).
Step 2
Create a business plan for your company. This is important for helping you have a complete outline of your business as you prepare your LLC formation documents.
Step 3
Navigate to the office of the secretary of state or equivalent department's website for your state. Use the listings on the National Association of Secretaries of State website to find your state's website (see Resources).
Step 4
Navigate to the section on LLCs. Look for information guides about forming LLCs in your state. Some states offer PDF downloads or online step-by-step guides for LLC formation. Print the LLC instruction guides and form. Read them and keep them handy for when you file your LLC. When you are viewing these guides, look for information about the limited liability company act for your state. There may be links directly to the text of the act.
Step 5
Read the limited liability act for your state, usually available on the state's secretary of state website. Even if you do not understand all of the legal jargon in the act, reading it will give you a general overview of your state's requirements for LLCs.
Step 6
Read the guidelines for naming LLCs in your state's limited liability act and on the secretary of state's website. Make sure that the name you choose for you company adheres to naming requirements and restrictions.
Step 7
Find and designate a registered agent. States require that registered agents be individuals or companies that can receive service of process documents for the LLC. In some states, LLCs can designate a member or someone associated with the company to be a registered agent. Some states, such as Nevada and Delaware, provide a directory of registered agents authorized to do business in the state.
Step 8
Create an outline of all of the information you need to include in the articles of organization and any other form needed to establish an LLC. This information can be obtained from downloadable articles of organization forms or from the state's LLC law. The section of the law with this information is commonly called "formation."
Step 9
Create a list of fees you need to pay to file your LLC paperwork. Most states include an online schedule of business entity formation and maintenance fees. Some states also include the fee schedule in the limited liability law.
Step 10
Create a list of any annual or biennial paperwork that you must file in order to keep your LLC in good standing with the state. This may include annual reports or statements.
Step 11
Create a list of permits and licenses you will need to legally conduct business. Use the license and permit database at Business.gov to find the ones required for your jurisdiction (see Resources).
Tips & Warnings
If you can afford it, hire an attorney to explain and guide you through the LLC formation procedures.
Photo Credits
Jupiterimages/Comstock/Getty Images