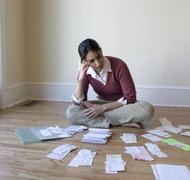 If you spend a little time learning some basic information about bankruptcy before your initial consultation with a bankruptcy attorney, you can use the knowledge to obtain more specific information to apply to your personal situation. You will get more out of the consultation and will be in a better position to make decisions. You should also put together a list of questions to ask and gather information on your assets, debts, income and expenses so that you can answer questions the attorney will have for you.
Types of Bankruptcy
Chapter 7 and Chapter 13 are the most common types of bankruptcy filed by individuals. Chapter 7 is a liquidation. The Chapter 7 trustee takes and sells all of the assets you are not allowed to keep as exempt property under the law and uses the proceeds to pay your creditors. Chapter 13 is a repayment plan. You generally keep everything you own while paying creditors in full or in part over three to five years. It is important the attorney have all the information on your assets, debts, income and expenses before making recommendations on which chapter might be best for you, or if bankruptcy is your best option.
Assets and Debts
Have available a list of your assets and secured debts (liens and mortgages), as well as values and amounts, so the attorney can provide you with information that applies to your specific situation. Asset information includes claims (such as personal injury or accident claims, anticipated tax refunds and inheritances) and retirement accounts. You should also have general information on what your credit card debt was incurred to pay, such as taxes, medical bills, business expenses or household bills. This affects the type of bankruptcy you are eligible to file. Knowing what your assets are, their value and the amount of any liens or mortgages will help the attorney determine whether you will be able to claim the property as exempt (protect it from creditors and the trustee) or what you will need to do to retain property that is not exempt.
Income and Expenses
For income and expenses, you will need to have available two sets of numbers. You need to have a summary of your current income and expenses as well as a six-month average of your income and expenses by category. This will help your attorney determine whether you qualify for Chapter 7. If you are filing for Chapter 13, the information will assist the attorney in determining the amount you would be required to pay into your Chapter 13 plan and whether the payment is affordable for you. If you anticipate a change in income or expenses, it is important to tell the attorney.
Other Information
Disclose any prior bankruptcies, including dismissals, as they could affect your options. Have available information on any child or spousal support you are required to pay as well as divorce obligations in general because they might not be eligible for discharge. The same applies to student loan debt, taxes, claims against you for fraud, and damages resulting from DUI accidents. If you have sold or given away anything within the two years prior to bankruptcy, provide information about the transfers as well as what you did with any money received for the transfer. The attorney may want to go back further, but this will be a good start. Transfers can affect your exemptions, discharge and, if family members are involved, your personal relationships because the bankruptcy trustee may have the right to sue the recipient to recover the money or property transferred.