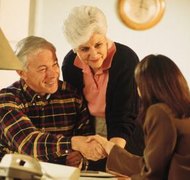 The executor of a will, referred to in some states as an administrator or personal representative, is responsible for the administration of an estate according to the terms established in a person's will. As such, the executor is legally obligated to act in the decedent's interests. It is, therefore, important to select a person to serve as executor, with common sense and good judgment, who is trustworthy and will treat all parties fairly. The name of the executor must be specified within the will, as well as any desired successors should the initial party selected not be willing or able to serve.
Basic Requirements
Ensure that the executor meets the basic requirements of the state in which the will is filed. Many states will only allow the appointment of individuals residing within the same state. Contact the county probate clerk or an attorney to determine your state's specific requirements. In addition, an executor must be over the age of 18, a United States citizen and not have been convicted of any felonies. A second choice for executor should also be screened in the event that the first choice is unable to serve in this capacity.
Determine Posting of Bond
According to the American Bar Association's "Guide to Wills and Estates," most states require that executors post a bond prior to the finalization of their appointment. The intent of the bond is to ensure that executors carry out their duties in good faith and protect the assets of the estate against the possibility of fraud or embezzlement. Bond waivers are available in most states that excuse the executor from posting a bond. The most common way to excuse the bond requirement for executors is for the testator, the person writing and executing the will, to include this request within the will itself.
Establish Compensation
Executors may be paid a commission that is calculated as a percentage of the value of the estate. When the executor is a beneficiary of the estate or a personal friend, a waiver of the commissions may be stipulated in the will as a condition of acceptance. However, in cases where the estate involves business ownership or more complex financial arrangements, it may be necessary to retain the services of a professional executor. Professional executors, such as banks, trust companies or attorneys, will typically not serve as an estate's executor unless they are entitled to a commission.
Communicate Wishes Clearly
Once the executor and contingent executor are selected, discuss the responsibilities of the position with them to get their reactions and feedback. If all are in agreement, record the identities of both appointees in your will and letter of instruction, as well as any other estate-related documentation. Have annual follow-up conversations with the executor and contingent executor so they are familiar with the locations of whatever they will need. Discuss the reasons for your selections with family members and beneficiaries.