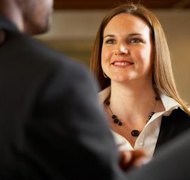 Divorce is often stressful and confusing -- and few people are in a position to make all legal, financial and medical decisions involved without assistance. Professional advisors can help you decide what is in your best interests. They can help you separate your life from that of your soon-to-be ex-spouse and restructure it -- legally, financially and psychologically.
Step 1
Decide what professional services you are likely to need. If you and your spouse shared a family attorney in the past for other issues, you will now each need your own legal professional. You may also need your own financial advisor to help you untangle your finances from your spouse's and plan for the future.
Step 2
Ask friends and family for the names of professionals they used in the past. They may have firsthand knowledge of who in your area can provide the services you need, particularly if they've been through a divorce and there was someone that they found especially helpful during the process.
Step 3
Contact professionals with whom you already work and ask them for referrals for services related to divorce if they don't offer them. For example, your tax accountant may know of someone who specializes in divorce-related forensic services. Such referrals are generally reliable because professionals will only refer you to the most competent specialists they know to keep you happy and coming back for their own particular services.
Step 4
Call the professionals on your list to ascertain critical information before you make an appointment. For example, ask whether initial consultations are free and whether the professional charges by the hour or by the task. Ask about their policies on confidentiality, as well as for credentials and the names of any professional organizations to which they belong. Ask them for the names and contact information of some of their other clients so you can contact them to see if they were happy with the services they received. Attorneys and medical professionals may not be able to divulge this information, but financial professionals might.
Step 5
Verify all professional credentials and memberships, and check references. Interview the professionals and narrow your list down to those with whom you think you would like to work -- and then make your final choices. This is where intangibles come into play; you might just feel more comfortable with one person than another. Divorce is a highly personal matter, so your comfort level can be very important. Professionals are sometimes booked for weeks or even months in advance, so make your appointments as quickly as you can to avoid prolonged delays in getting started.