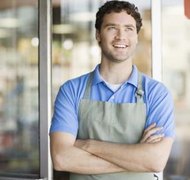 By operating a business as a sole proprietorship, you are taking on all responsibilities and liabilities for the business. At the same time, the business is simple to start, as you may form a sole proprietorship in North Carolina without filing formation paperwork with the state. However, depending on the type of business, the state may require you to take additional steps to properly protect your sole proprietorship and comply with state laws.
Business Licenses
Although you do not need to register a sole proprietorship with the state, you can protect your business from penalties by obtaining the required licenses before opening your doors to to the public. The state issues more than 700 different types of licenses and permits, including food and health permits, licensing for banks and credit unions and licensing for many other professions. You can contact the state's business counselors to find out which licenses you need. Additionally, you can contact your city or town government, as you may also be responsible for local business or zoning permits.
Assumed Business Name
If you want to do business with a name other than your own, you must register an assumed business name. Without the registration, you may only conduct business in your name, otherwise you may be subject to fines and other penalties. Assumed names are not registered at the state level, but instead with your county's Register of Deeds. You must fill out and submit a Certificate of Assumed Name, listing your name and address along with the name you want to use for your business.
Employer Requirements
If you hire employees, you must comply with reporting and tax requirements to protect your sole proprietorship from penalties and fines. Employers must file for a Employer Identification Number with the Internal Revenue Service, which is the tax number you will use to identify the business instead of your own Social Security number. In North Carolina, you must withhold state taxes from your employees' paychecks and comply with requirements for workers' compensation and unemployment insurance. Further, you must report new employees to the North Carolina State Directory of New Hires.
Incorporation
Even if you comply with all the requirements for sole proprietorship business registration, the nature of the business structure only provides so much protection. As the owner, you will be personally responsible for any debts of the business. To better protect against personal liability, you may consider incorporating or converting the business into a limited liability company. With both corporations and LLCs, the owner of the business rarely is personally responsible for the business. Instead, corporations and LLCs are separate legal structures, operating independently from the owner of the business.