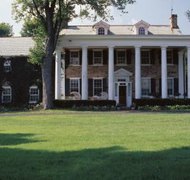 A taxable estate in Massachusetts is the sum total of all your assets that are subject to estate tax at the time of your death. However, the executor of an estate is only required to pay taxes on the estate if its total value exceeds the tax exemptions given to estates under both federal and state law. Because the exemption amounts are so high, few estate executors -- and ultimately the beneficiaries of those estates -- have to pay what is often referred to as the "death tax."
Estate Definition
For estate tax purposes, your estate includes any assets that have value. This includes real estate, stocks, bonds, life insurance policies, certain kinds of trusts, retirement benefits, artwork, copyrights, royalties and patents. It can include property owned jointly as well as separately. The fair market value of personal property, from cars to stamp collections, is included in the value of the estate.
Distribution of the Estate
If your estate is subject to state or federal taxes, the executor must pay those taxes prior to the distribution of assets to beneficiaries. After payment of any applicable taxes, debts owed by the deceased to creditors, and funeral and other administrative expenses, the remaining assets are distributed to beneficiaries under the terms of the will.
Filing Requirements
In Massachusetts, the executor of an estate must file a Massachusetts estate tax return, Form M-706, if the gross value of the estate, plus adjusted taxable gifts, exceeds the applicable exclusion amount in the Internal Revenue Code. In short, if the estate is valued at less than $1 million under this formula, the executor doesn't have to file a state tax return and no taxes are owed to the state. If taxes are due, taxes must be filed and paid within nine months of the estate owner's death, although extensions are sometimes granted.
Considerations
The exemption from federal taxation of an estate is $5,120,000 at the time of publication. This means that if the taxable estate is valued at $4 million, the estate would not owe any federal taxes. However, it would receive an exemption for the first $1 million in state taxes, but still owe the state on the remaining $3 million. Further, gifts granted by the estate owner before his death can offset estate taxes in Massachusetts and, in some cases, save tens of thousands of dollars in estate taxes by reducing the value of the taxable estate. However, the federal exemption is scheduled to decrease to $1 million in 2013 absent action by Congress.