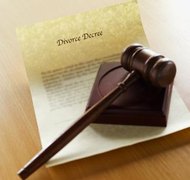 If you are seeking an amicable and speedy divorce in California, there are important steps you can take as a couple. One of the most useful is to apply for a summary dissolution, which allows couples meeting the guidelines to avoid a court hearing. To ensure your interests are protected, research the law thoroughly before you take this important step.
Required Waiting Periods
For any divorce, California requires a six-month residency in the state before you can apply for divorce, as well as three months of residency in the county where you file the divorce petition. The state imposes a six-month waiting period after the petition filing before the courts can grant the divorce, whether or not the couple is applying for a summary dissolution. State law requires the spouses to file jointly for a summary dissolution, and streamlines the process by waiving the requirement for a hearing. This process doesn't necessarily allow for a "faster" divorce, however, because the time it takes from petition to resolution is under the control of the spouses and how they approach the process.
Guidelines
To qualify for a summary dissolution, you must have been married for less than five years, have no natural or adopted children (or be expecting one), own no land or structures or rent any land or structures with a lease of one year or more or an option to buy, and have less than $6,000 in debt contracted during the marriage (other than car loans). In addition, your community property must total less than $38,000, a limit that also applies to the property belonging to each spouse. You must also waive any spousal support and have a signed marital settlement agreement to apply for summary dissolution.
Expediting the Process
If you're seeking a relatively smooth and quick divorce process, it's important to reach an agreement on money, property, and children before submitting any petition to the courts. Wrangling over custody issues, visitation, child support, debts and the division of property will inevitably slow down your case, as both sides file motions and responses that the court will have to decide during a hearing. If one or more issues proves difficult to resolve, you can turn to mediation, in which an impartial third party helps you get things settled, or at least better prepare you for the court process.
Bifurcated Divorce
California also allows divorcing couples to petition for a bifurcated divorce. In this process, a legal divorce is granted while the court delays any hearing or decision on specific issues that may otherwise slow it down, such as property division or child custody. A bifurcated divorce requires a petition to the court, notification to the other spouse and attendance at a court hearing. California is a no-fault divorce state; thus, you do not need to provide grounds other than "irreconcilable differences." However, state law still imposes a six-month waiting period before the formal divorce is granted.