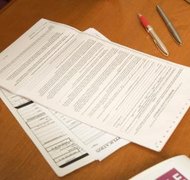 It is essential that you register your business properly to avoid fines and penalties from the federal government and from your state government. Registering a business is a process of filing paperwork with various agencies to comply with federal, state and local laws. The steps will differ, depending on where your business is located, what type of business structure you are registering and what kind of business you are running.
State Registration
If you are planning to run your business under a name other than your own, register your business with the state. If you are a sole proprietor, or the only person who owns the business, you may file a "fictitious business name" with the state. Individual and multiple owners have the option to incorporate at the state level, so that they limit their personal liability for the debts of the business. To register an LLC, a limited liability corporation, generally, you must file articles of incorporation with the secretary of state in the state where you will be doing business. Forms and filing fees vary by state.
Federal Tax Registration
If your business is a corporation or a partnership, if you have employees or the company is required to pay IRS taxes, you must register for an Employer Identification Number (EIN). Some states require that all businesses apply for an EIN for state taxes. An EIN is a unique number for the business, just like a social security number is for an individual. This EIN will be used on the company's tax form. You may submit a free application for an EIN on the IRS website.
State Tax Registration
Most states require businesses to register with their state's department of revenue. For example, if your state has sales tax, often the state will require you to apply for a sales tax permit. Depending on your business structure and your state's rules, your business may also be liable for business entity tax and employment tax.
Local Registration
Many towns and cities require a business to acquire a local business license. Businesses that sell alcohol or tobacco may have additional permits that they need to apply for at the local and state level. Check with the town clerk in your county to learn more about which registrations you may be required to complete for your company.
Professional and Specialty Registrations
If you are running a professional business, such as an accounting firm or landscaping, your state of town will likely require that you obtain a professional permit. If you operate your business and you have not obtained the appropriate permit, the state may fine you. Further, if your business is involved in activities that a federal agency regulates, generally you must acquire additional permits. This pertains to businesses involved in agriculture, alcohol, aviation, firearms, fish and wildlife, maritime transportation, mining, nuclear energy, radio and television, and other transportation.