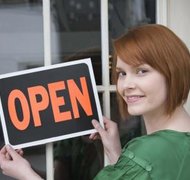 A limited liability company, or LLC, is created by state statute and is an available business structure in all 50 states in the United States. Each state has its own statutes relevant to forming a LLC and regulating foreign LLCs applying to do business within the state. While there are some basic guidelines to follow, it's up to individuals wishing to operate as a LLC to read and familiarize themselves with the appropriate statutes or hire a competent professional for assistance.
Step 1
Contact the secretary of state office in the state in which the LLC will do business. Ask a filing clerk to direct you to any pre-formatted registration forms and refer you to relevant statutes, if necessary. Forms can be found and downloaded from the secretary of state website in every state.
Step 2
Submit any required paperwork to the secretary of state for filing. The main paperwork requirement is the submission of the articles of organization. Other paperwork may include a certificate of good standing if the LLC is applying as a foreign LLC, or a statement of registration to ensure the LLC's information is accurate and current. LLCs are created by statute. Statutes spell out what information is mandatory in the paperwork submitted to the secretary of state to register as a domestic or foreign LLC. Some states, like California, provide fill-in-the-blank forms. Other states, like Nebraska, do not provide these forms to avoid the appearance of giving legal advice. Instead, applicants are referred to relevant statutes for guidance.
Step 3
Pay the necessary fees to the secretary of state office and any other taxing authority as required. The secretary of state will provide relevant fee amounts and direct you to other authorities, if necessary, in relationship to registering the LLC in the state.
Step 4
Place a notice in the newspaper informing the public of the formation of the LLC, if required by statute. When required, submit proof of publication to the secretary of state.
Step 5
Display the certificate of registration received from the secretary of state office in the home office of the LLC, if required by statute. In some cases, displaying the certificate of registration in the registered office is sufficient.