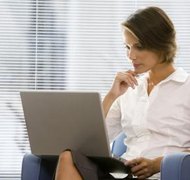 One of the initial steps required to incorporate your business may be to reserve a unique name with the secretary of state's office. You may already be doing business under a particular company name that is not incorporated and choose to reserve that same name with the "Inc." or "Corporation" extension added to maintain the goodwill your business has established with the public. Under most state laws, no two entities inside the state may register with identical corporate names and any request for an identical name will be rejected.
Step 1
Check your intended name against existing corporations in the state via the online search engine provided by your state's secretary of state's office. If your intended name is in use already, it will show up in your search. Otherwise, no results will appear. Keep in mind that if there is a corporation called "XY Affects, Inc.," then a name such as "XY Effects, Inc." may also be rejected as being too similar to the name of an existing corporation.
Step 2
Complete a name reservation form online, by mail or by phone, according to your state's requirements. Pay the filing fee, which will vary from state to state. Sites that allow online filing generally take payment by credit card. If mailing, check or money order will be required.
Step 3
Incorporate before your name reservation expires or extend it if allowed by the state. In California, name reservations expire after 60 days and in Delaware 120 days. Time periods will vary among states, as will renewal options.
Tips & Warnings
If you don't have online access, many states allow phone or mail-in requests to check for name availability.

Florida no longer allows name reservations and instead places the responsibility for determining name availability on the incorporator by offering online searches of business records.
Photo Credits
Creatas Images/Creatas/Getty Images