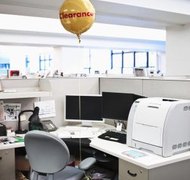 A limited liability company is an entity that allows you to operate a business while protecting yourself from personal liability for financial obligations of the company, as well as for legal judgments against the operation. Your liability is "limited" to the amount of money you have invested personally in the business. The registration procedure for LLCs is similar in all 50 states, regardless if it's an online or a bricks-and-mortar business, varying only in the fees required and the paperwork needed.
Step 1
Choose a name for your business. The name cannot be the same or an imitation of the name of another business registered in the state, and usually has to have some indication that it is a limited liability company, such as "Limited," "LLC" or similar word or abbreviation. Conduct a name search through your state's secretary of state or division of corporations, and also reserve a name, for a fee, while your registration paperwork is in progress.
Step 2
Select a registered agent. This is the individual or company that is authorized by you to accept legal process as well as official state documents such as tax notices on the LLC's behalf. The registered agent must have a physical address and be available to accept documents during normal business hours.
Step 3
Draw up articles of organization for your online business. This is a short statement of your name, address and contact information of all of the members, partners and/or managers of the business. Add the name and contact information of your registered agent, and provide a statement on the nature of the business -- though this is usually optional. The articles must be signed by the members of the LLC.
Step 4
File the articles with the secretary of state or division of corporations in the state where you intend to do business. Each state sets down the required filing fees, as well as the fees charged for expedited service, certified copies and walk-in service.
Tips & Warnings
You may also have to file an operating agreement. This is a statement of the basic business, membership agreement and division of responsibilities among the officers of the company.

If you are running the LLC as a sole proprietorship, you may pay your federal income taxes for the LLC earnings as an individual, not as a business. State laws vary on the tax status of LLCs, so review your secretary of state's website for this information, or consult with an experienced business attorney.

Most states require regular filings from all business entities registered in the state, including a certificate of valid registered agent, as well as tax filings. If you neglect to file these papers, your LLC will be subject to dissolution by the state.
Photo Credits
Ryan McVay/Photodisc/Getty Images