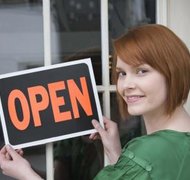 A sole proprietorship is a popular type of business type because it is relatively simple to set up, and it has fewer registration requirements than other types of business entities. As a sole proprietor, you are personally responsible for the management and the debts of your business, and as such, you must ensure that you are properly registered with the city. While sole proprietorships do not need to be registered with the state of California, you must register with the city and county, and you may be required to obtain further permits, depending on the type of your business.
Business License Registration
The state of California does not require sole proprietorships to register with the state. However, in Anaheim, a business owner must obtain a business license before engaging in business within the city of Anaheim. To obtain a business license, you must contact the Anaheim Business License Division and request that they send you an application by mail, fax or email. You may also pick up an application at the office. On the application, you must include the name and location of your sole proprietorship, a description of the business, and your name and home address. You must also provide your driver's license number, your social security number, and any contractor license numbers, if applicable. There is a fee to submit the application.
Home-Based Business
If you are conducting your sole proprietorship from your home, you must obtain a city business license and a home occupation permit. You may obtain a home occupation permit from the city's Planning Department, which you will submit with your business license application. By applying for a home occupation permit, the Planning Department will determine if your residential area is zoned for business, and if your business type will affect the surrounding neighborhood. There is an additional fee to apply for a home occupation permit. In registering your home-based business, you must certify that only residents will engage in business, that you will not increase traffic, and that sales will be completed only over the phone, Internet or mail. For home-based businesses, there are additional restrictions on noise, commercial vehicles, and on storing materials or supplies outdoors.
Police Department Approval
The city of Anaheim requires certain business to obtain approval from the police department before it may open its doors for business. You are not required to submit a separate application, but your business application will be forwarded to the police for approval before you hear back from the city. Pawn shops, fortune tellers, Internet cafes, pool rooms, massage establishments, and adult entertainment businesses all require police department approval. Contact the city to determine if your business license is subject to additional scrutiny from local law enforcement.
Fictitious Business Name Regisration
If you intend to do business under a different name than your own, you must register a fictitious business name with the Orange County clerk. Before registering the name, it is your responsibility to search the county records, which may be completed online, to ensure no other business is already using the name. You must register the name within 40 days from the time you start your business. You may file the statement in person, or on an online form available on the Orange County website. Within 30 days of submitting the fictitious business name statement with the county clerk, you must publish the statement in a local newspaper, and then file an affidavit of publication with the clerk. The fictitious business name state expires five years after registration.
Other Permits and Licenses
Depending on your business type, your may be required to obtain other types of permits or licenses. For example, if you plan to sell alcoholic beverages, you must contact the Alcoholic Beverage Control Board for further permitting. If you will prepare or sell food, you must submit a Health Permit Application to the Orange County Health Care Agency. Contact the Anaheim Clerk to determine if your business type requires any further permitting.