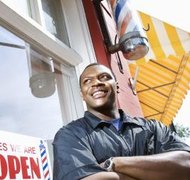 You must register your company's trademark in Canada to protect against unauthorized use. A trademark is a specific item used to identify a business. A trademark might consist of words, a design or a combination of both. While Canadian law doesn't require the registration of trademarks, doing so preserves your trademark and protects your brand.
Step 1
Check to see if a trademark similar to yours has already been registered in Canada. Visit the official website of the Canadian Intellectual Property Office to use the registered trademark search. For a trademark involving a design, you can search by description to see existing trademark photos. Revise your trademark if already registered.
Step 2
Create a drawing of your trademark if necessary. Drawings must be in black and red with a description of the trademark's actual colors. You can use special markings to indicate the colors, which are described in Canada's trademark regulations. Visit the official website of the Canada Department of Justice to view markings. Keep the drawing under 8.5 by 14 inches if possible.
Step 3
Prepare the trademark registration application. You complete the form online at the Canadian Intellectual Property Office's official website. You need your name and address, a drawing of your trademark you can upload, what products or services you'll associate the trademark with, and the date of the first time you used or will use the trademark.
Step 4
Submit the application online when finished. You must pay a filing fee of $250 as of 2011, and you can only pay by credit card. The office will notify you if the trademark is approved by mail.
Tips & Warnings
If you want to complete the form online, you must register an account with Industry Canada. You can register online for free at the official website of Industry Canada.

The Canadian Intellectual Property Office maintains a list of agents that can help with trademark application on its official website.

The trademark application fee is not refundable, even if your registration is rejected.

You must re-register the trademark every 15 years.

Trademark registration in Canada only protects your trademark in Canada.
Photo Credits
Jupiterimages/Comstock/Getty Images