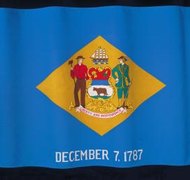 If you have an LLC that operates internationally or from a different state and you wish to extend your LLC's operations to the state of Delaware, you must register with the Delaware Secretary of State as a "foreign" LLC. The filing requirements are fairly straightforward, making it an easy matter to establish your LLC in Delaware.
Requirements
To register with the Delaware Secretary of State, the LLC needs to file an Application for Registration, its original operating agreement and an Articles of Organization. The name under which it registers must not be the same or an imitation of an LLC already operating in the state, and must include the words "corporation" or "incorporated," or abbreviations of the same.
Application for Registration
The company must submit an application for registration. The application must include the name of the company, any other name under which it will be doing business in the state, the jurisdiction where it was originally founded, the date of formation and the nature of the business. The application should be filed with a cover letter giving the name, address and phone number of the person filing the application.
Certificate of Good Standing
The LLC must also submit a Certificate of Good Standing or other official statement from the jurisdiction where it was founded. This certificate states that the company remains in existence and operates under the laws of that jurisdiction. The certificate must have been completed no more than six months previous to filing. The LLC must furnish a certified translation if the certificate was done in a foreign language.
Registered Agents
A foreign LLC must also furnish the name and address of its registered agent. This must be an individual or corporation who is authorized to transact business in Delaware; if the registered agent is not so authorized, then any LLC officers or managers living in Delaware can be serve in this capacity at their places of residence. The Delaware Secretary of State may also serve as the agent for service of legal process.
Filing Fees
As of December 2010, the fee to file a Certificate of Registration is $200; additional certified copies can be furnished by the clerk for an additional fee of $50. Expedited processing is available for an additional fee of $100. The address for the Application for Registration is Delaware Division of Corporations, 401 Federal St., Suite 4, Dover, DE 19901.
Photo Credits
Stockbyte/Stockbyte/Getty Images