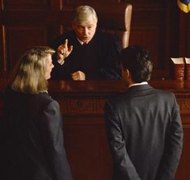 When a Colorado debtor files for bankruptcy, this is only the first step in the bankruptcy process. From attending credit counseling to meeting with creditors, you must complete a number of actions before the bankruptcy court will approve the bankruptcy and discharge your obligations. If you fail to do so, the bankruptcy court will deny the bankruptcy discharge and dismiss the case. When this happens, you may face a number of consequences, including a reinstatement of debts and liability.
What's the Difference?
Colorado residents typically file either Chapter 7 or Chapter 13 bankruptcy. With a Chapter 7 bankruptcy, a court-appointed bankruptcy trustee collects and liquidates your assets and uses the proceeds to pay your creditors. If any debts remain unpaid, the bankruptcy court will discharge the debt -- that means you no longer have to pay. In contrast, Chapter 13 filers don't have to give up any assets. Instead you enter into a repayment plan that lasts three to five years. As with Chapter 7, if any debts remain unpaid once the plan is completed, they are discharged and you are no longer liable. With either form of bankruptcy, an automatic stay goes into effect the moment the petition is filed, prohibiting creditors from engaging in collection activity for the duration of the bankruptcy proceedings.
Chapter 7 and Dismissal
To qualify for Chapter 7 bankruptcy, Colorado residents must pass a means test. On the bankruptcy petition, you disclose your assets, expenses and liabilities. If your income falls below the median income of similar-sized households in the state, you automatically qualify. If not, the court will do further calculations and determine your disposable monthly income. If your disposable income falls below the state's median income, you qualify. If not, there is a "presumption of abuse," meaning that you are presumed to have enough money to pay some or all of your debts. When this happens, the court dismisses the Chapter 7 case and you must file for Chapter 13 instead. However, if the case is dismissed for any another reason, such as not cooperating with the trustee, you lose the protection of the automatic stay and creditors can resume collections.
Chapter 13 and Dismissal
When it comes to Chapter 13 bankruptcies, Colorado courts typically dismiss these cases when you fail to make monthly payments under the plan. When this happens, you are subjected to several consequences. First, the automatic stay is immediately lifted, enabling creditors to resume their collection efforts. Since Chapter 13 is commonly used by people attempting to save their homes and other secured property, the risk of foreclosure and repossession is significant. A Chapter 13 dismissal is also problematic because not only are the original debts restored, minus any payments made, but creditors often tack on interest and penalties dating back to before the petition was filed and based on the pre-bankruptcy balances.
Additional Considerations
When bankruptcy cases are dismissed, debtors often file again at a later date. If you refile within the same year, the bankruptcy court will typically limit the duration of the automatic stay, even to as little as 30 days. If you refile after having two or more cases dismissed, the bankruptcy court is not likely to grant an automatic stay at all. It's important to note that when a debtor chooses to convert his Chapter 7 into a Chapter 13, or vice versa, rather than refile at a later date, the automatic stay is not usually forfeited or limited.