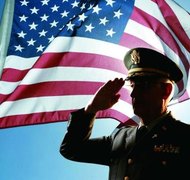 Whether you are filing a Chapter 7 bankruptcy or a Chapter 13 bankruptcy, you will have many forms to complete. Regardless of which type of bankruptcy you file, one of those forms will be Schedule I. You report all of the income that you receive on Schedule I, and since your veteran benefits are a type of income, you must report them. Usually, you record the amount of your veteran benefits on Line 11 of Schedule I.
Exemptions and Reporting
Some types of income and property are exempt from liquidation in a Chapter 7 bankruptcy. Under federal law, veteran's benefits are exempt, and many states also exempt veteran's benefits. However, you still must report them on Schedule I, because the court uses your total monthly income to make decisions about your case. In a Chapter 7 case, the court will look at your total monthly income to complete means testing. This determines whether you have enough discretionary income to fund a Chapter 13 plan, rather than qualifying for a Chapter 7 liquidation. If you have already filed a Chapter 13 bankruptcy petition, the court will use Schedule I to determine if your proposed repayment plan is feasible.