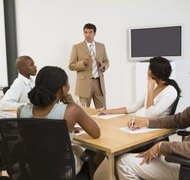 Missouri recognizes both sole proprietorships and S corporations. However, these business structures differ in a variety of ways. Sole proprietorships are relatively simple compared to S corporations, as they typically involve one founder--the sole proprietor. S corporations may involve several founders and are required to file articles of incorporation with Missouri's Secretary of State.
Sole Proprietorships
In Missouri, as in other states, sole proprietors are not required to file articles of incorporation with the Secretary of State. In fact, sole proprietors have few legal requirements compared to S corporations; sole proprietors also get to make all business decisions. Sole proprietorships do not have stockholders, nor do they issue shares; rather, they are financed with the sole proprietor's personal funds. Missouri requires sole proprietors to register the name of the sole proprietorship only if the name differs from the sole proprietor's name.
S Corporations
Pursuant to Missouri law, S corporations located in the state are required to file articles of incorporation with the Secretary of State. Missouri S corporations may acquire capital via investors and are allowed a maximum of 100 shareholders; however, Missouri allows single-shareholder corporations. Public S corporations have a board of directors that makes management decisions. However, if the S corporation is privately held, then it can choose not to have directors.
Liability and Liquidity
Missouri sole proprietorships have unlimited liability, whereas Missouri S corporations have limited liability. Limited liability means that shareholders and owners are typically not held liable for the acts or omissions of the corporation. To liquidate an S corporation in Missouri, it typically takes a two-thirds vote of the shareholders. Sole proprietorships can be liquidated whenever the sole proprietor wishes; all remaining assets are the property of the sole proprietor.
Taxes and Agency
Missouri S corporations are considered "pass through" business entities. This means that taxes pass through to shareholders -- based on the amount of stock each shareholder has -- and the corporation itself does not pay income tax. Sole proprietors are responsible for paying the sole proprietorship's taxes on their individual tax returns. In Missouri, S corporations are required to retain a registered agent, while sole proprietorships are not.