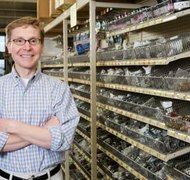 Before you begin operating your business in South Carolina, you must decide on a business structure such as a sole proprietorship, partnership or corporation. Corporations are separate legal entities that provide liability protection for individual owners and shareholders. To legally form a corporation in South Carolina, you must register it with the secretary of state.
Choosing a Name
To register your corporation, you must choose a name for it. The name must be easily distinguishable from other names of businesses already filed with the state. For example, "ABC Inc." is not different enough from "ABC, LLC," so the state will not allow both names. To ensure that the name you want to use is not already in use, you can check name availability by performing a name search on the secretary of state website.
Articles of Incorporation
To register your corporation, you must complete and file the articles of incorporation forms. Article of incorporation forms are available from the secretary of state website, or you can use an online legal document provider to prepare and file your paperwork. The articles must include certain information about the corporation including the name of the business, the address of the business's registered office, the name of the corporation's registered agent and the number of shares of stock the corporation is authorized to issue. The articles of incorporation must also identify each incorporator by name and address. Each incorporator must also sign the articles.
Filing the Articles
You must submit South Carolina Department of Revenue form, CL-1 at the same time you submit your articles of incorporation; the state will not accept the articles without this form. Once you complete the articles of incorporation form, file the original and a duplicate, along with the required filing fee with the South Carolina Secretary of State, Division of Business Filings by mail or in person. If you submit a self-addressed, stamped envelope with your filing, the secretary of state will return a filed copy to your business address as proof of filing.
Bylaws and Licensing
Typically, corporations create bylaws immediately after filing the articles of incorporation. Bylaws outline how the company will operate, including when meetings will be held and how stock will be issued. South Carolina does not require you to file bylaws for your corporation, but they will accept them if you choose to file them. Your corporation might also require certain business licenses, depending on your location and type of business. The South Carolina Department of Revenue issues retail licenses, while the South Carolina Department of Labor, Licensing and Regulation issues some professional licenses, such as contractor licenses. As most business licenses are not issued at the state level, check with your county or city to obtain information on obtaining local licenses for operating a business.