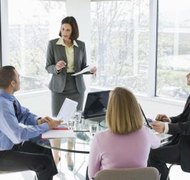 Nonprofits must incorporate to obtain tax-exempt status, but they don't have to stay incorporated forever. Nonprofits might lose membership or funding, or there could be other reasons to cease operations. Like other corporations, incorporated nonprofits can close their organization through a formal process called dissolution. Nonprofit corporations registered in South Dakota must follow South Dakota's dissolution formalities as well as those of the Internal Revenue Service.
Decision to Dissolve
Nonprofits cannot be closed on a whim, and it takes more than one person to decide to close the corporation. In South Dakota, a nonprofit corporation's board of directors must adopt a resolution to dissolve. If the nonprofit has members that are entitled to vote, dissolution requires a two-thirds vote. If no members are entitled to vote, dissolution only requires a majority vote from the board.
Debts and Assets
Since nonprofits typically own some assets, the organization must create a plan to dispose of those assets as part of dissolution. Since the assets were given to the nonprofit for certain purposes, the corporation must consider those purposes when disposing of them. For example, a dissolving nonprofit could give its assets to another nonprofit with a similar purpose. In South Dakota, this is called a plan of distribution, and the nonprofit must include this plan as an attachment to the dissolution paperwork it files with the state. A nonprofit that owes debts must notify its known creditors about the pending dissolution and take steps to pay what is due.
South Dakota Paperwork
A dissolving nonprofit must file Articles of Dissolution with the South Dakota Secretary of State. The form is available from the Secretary of State's office and must be accompanied by a filing fee. On the form, the corporation must list its name, how the resolution to dissolve was passed, whether members were entitled to vote, a statement that debts have been paid and a plan for distribution of assets. If everything is correct on the articles, the state issues a certificate of dissolution.
IRS Paperwork
Most nonprofit corporations are registered with the IRS as tax-exempt organizations, so they must file paperwork with the IRS when terminating their corporation. A dissolving nonprofit must file its annual return or notice by the 15th day of the fifth month after the end of the tax period. For example, the return is due May 15 if the corporation terminates at the end of the calendar year and files returns based on a calendar year. Each form contains a portion where the nonprofit can indicate its termination status.