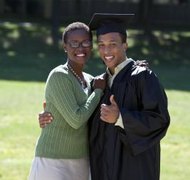 Your relationship with your spouse doesn't always end when you divorce. You continue to have responsibilities to your children, and possibly to each other as well. Divorce invariably involves separating finances, and some of these money and property issues can require cooperation between spouses for years after their marriages end.
Cooperative Parenting
Even if you don't have joint custody, you'll have to cooperate with your ex post-divorce for the sake of your children. Most states include detailed parenting plans in their divorce decrees. Some decrees simply allow for "reasonable" visitation with the non-custodial parent. In either case, the decree is a binding court order. You and your ex are responsible for adhering to its terms. If your ex violates them, you can file an action against her for contempt in most states. You can also go back to court and ask the judge to make your parenting plan more specific, or to change custody if one parent willfully and repeatedly breaks the parenting terms of the decree.
Child Support
When you divorce, the court includes a child support obligation in your decree, calculated according to your state's formula. If you're the non-custodial parent, you're responsible for paying this on an ongoing basis, until each of your children reaches the age of majority. However, you might be responsible for other costs related to your child as well. For example, a large number of states and the District of Columbia have added legislation permitting judges to order a non-custodial parent contribute to the cost of their children's college education. You can also agree to provisions for college at the time you divorce, if you negotiate a marital settlement agreement to avoid a trial.
Spousal Support
Courts frequently order spousal support or alimony on a temporary basis while your divorce is pending, until property issues can be sorted out. However, spousal support sometimes continues after divorce as well. If you're the higher-earning spouse, you might continue to be responsible for paying your spouse alimony. States are increasingly moving toward "rehabilitative" spousal support. The obligation ends after a set period of time, during which the court expects your ex to take proactive steps to improve her earnings ability so she can support herself. However, alimony orders might be permanent after long-term marriages where one spouse is older and can't easily learn adequate job skills. In this case, you'd usually be responsible for paying support until she remarries or dies.
Marital Home
Divorced spouses can't always easily resolve the issue of the marital home. The mortgage might be "under water," meaning that it's greater than the home's appraised value. You might want to sell it, but the market isn't favorable so you decide to hold onto the property and wait for a better time. In these cases, you may have to work out a solution that involves cooperating post-divorce. You will have to decide who is going to be responsible for paying the mortgage until you can sell. If you divorce by consent with a marital settlement agreement, make sure your plan for the mortgage is committed to writing. If your spouse is responsible for paying the mortgage and defaults, leaving you to pay it as a means of avoiding foreclosure, you can take him back to court for reimbursement.
Marital Debts
Unless they agree to pay off joint debts by selling assets when they divorce, most spouses continue to be responsible for paying them off post-divorce. Individual debts may be assigned to each spouse, or one spouse might be responsible for paying all of them in exchange for a greater share of marital property. You can check your credit report periodically to make sure your spouse, if responsible for paying off any marital debt, is performing according to your agreement.