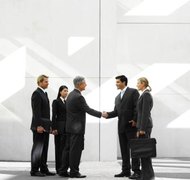 Missouri gives you many options to choose from when deciding on a business structure, including sole proprietorships, corporations, limited liability companies, general partnerships and limited partnerships. Limited partnerships allow a great deal of flexibility in management while providing liability protection for partners who invest without participating in the partnership's management. To form a limited partnership in Missouri, you must register your business with the Secretary of State's Corporations Division.
General Vs. Limited Partners
Limited partnerships are characterized by two classes of partners: general and limited. Limited partners are those who provide capital to fund the partnership but do not manage the partnership. A limited partnership provides liability protection for its limited partners; limited partners receive a share of the partnership's profits, and losses to the extent of their capital contribution. General partners are the managers of the partnership; they do not have liability protection even in a limited partnership. If you want liability protection for your business's general partners, you can form a limited liability partnership.
Naming Your Business
Your partnership's name must not be so similar to that of another Missouri-registered business that the businesses are indistinguishable. Your name must also include the words "limited partnership" or the abbreviation "LP" or "L.P." since this lets the public know what type of entity you are. Before registering, you may search Missouri's list of existing names on the Secretary of State's website to see if the name you want is available; you can reserve a name even if you are not yet ready to file your company's other formation documents. Additionally, Missouri allows companies to transact business under a name different from the business's registered name by filing a fictitious name registration. If your limited partnership wants to use a different name when conducting business, you have the option of registering the fictitious name online.
Certificate of Limited Partnership
Your business is not recognized as a limited partnership until you have filed a certificate of limited partnership with the state. Your certificate must include the name of your partnership, name and address of your registered agent and each general partner, and the planned duration of the partnership. All general partners must sign the certificate, and it must be accompanied by a filing fee. Your partnership must send this form to the Secretary of State's Corporations Division for filing.
Limited Partnership Agreement
Missouri requires limited partnerships to keep certain records, including a current list of all partners, a copy of the certificate of limited partnership, copies of tax returns for the past three years and the limited partnership agreement. A limited partnership agreement describes the relationships between the partners, such as the contributions each partner made to the partnership, arrangements for future contributions, rights of the partners to receive distributions, and a description of events that would cause the partnership to dissolve.