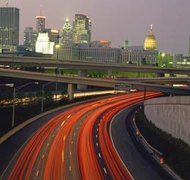 Forming an LLC is a fairly standard procedure in most states, but Georgia handles LLC filing a bit differently in a number of ways. The largest difference between Georgia LLC filings and those of most other states is the inclusion of a specialized form to be submitted alongside the articles of organization. Knowing how to start an LLC in Georgia can help to ensure your new company gets off the ground smoothly.
Step 1
Check your chosen name for availability, then reserve the name with the Georgia Corporations Division. Choose a unique name, then file a reservation request online at the Corporations Division's website. The Division will send you an email confirmation within 24 hours of your request if your chosen name is available.
Step 2
Select your members and appoint a registered representative. Partners, or owners, in an LLC are called members. Corporations can be listed as members of an LLC as well, granting them all the same rights and responsibilities as individual partners. Choose a registered representative for the state to use as a point of contact for all official matters; the representative can be any individual of legal age, regardless of the person's affiliation with the company.
Step 3
Complete and file your articles of organization. According to section 14-11-204 of the Georgia Code, LLC articles of organization must contain the name of the company, the names of managers and any other provisions "not inconsistent with law." Articles must be submitted on white, 8.5-by-11-inch paper via mail, and must be accompanied by Transmittal Form 231.
Step 4
Fill out and submit Transmittal Form 231 with your articles of organization. Transmittal Form 231 requires you to list an email address for contact regarding your filing. The form also includes a space for the LLC name reservation number you obtained in step 1, the LLC name, and the name and contact information of the person filing the articles. The form also provides room to list the address of the LLC, the names of each organizing member and contact information for your registered agent.
Step 5
Be prepared to submit an annual registration with the Georgia secretary of state. According to the secretary of state's website, the first registration is due between January 1 and April 1 of the next calendar year after forming the company.