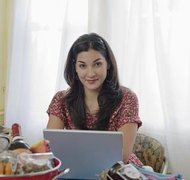 If you live in Oregon and are thinking about starting your own small local business, organizing your new business as a limited liability company, or LLC, may be an attractive option. Small business owners who organize their business as an Oregon LLC enjoy the protections of limited liability, pass-through taxation and relaxed corporate formalities. Under Oregon law, a person who wants to form an Oregon LLC must register with the Corporation Division of the Oregon Secretary of State.
Step 1
Determine the name of your Oregon LLC. Under Oregon law, the name of your LLC must contain either the phrase "limited liability company" or the abbreviation "LLC." No other identifier of limited liability -- such as "Ltd." or "co." -- is permissible. The name of your new Oregon LLC must also not be identical to or easily confused with the name of an existing Oregon corporation. The Oregon Secretary of State's website maintains a searchable database of Oregon corporations to help you choose a unique name (see Resources).
Step 2
Choose a registered agent. A registered agent is the party -- person or business -- that, if your LLC is ever the recipient of a lawsuit, will receive service of process of that lawsuit. The name and address of your registered agent will appear as part of the public record of your LLC filing. If you are a resident of Oregon, you may serve as the registered agent of your LLC. However, if you wish to keep your personal information separate from your business information, you may hire a registered agent service to act as the registered agent of your Oregon LLC.
Step 3
File your Articles of Organization with the Oregon Central Business Registry, which will require you to set up a free account before you can begin filing your Articles of Organization (see Resources). After obtaining your account, input the name of your LLC and whether you want to specify a date of dissolution for your LLC. Also specify the name and address of the registered agent of your LLC, and disclose any individual involved with the organization of the LLC, whether members -- called "owners" -- or managers will manage the LLC, and whether the LLC will render professional services such as legal advice. You also have the option of including the names of any LLC managers and any optional provisions for the management of your LLC.
Step 4
Electronically sign the Articles of Organization and pay the filing fee. All organizers must electronically sign the Articles of Organization. As of November 2010, the fee for filing an Articles of Organization in Oregon for a domestic LLC is $100, payable by credit card.
Tips & Warnings
While you can register your Oregon LLC online, there may be tax implications to forming an LLC. For more information, please consult with an attorney.
Photo Credits
Jupiterimages/Brand X Pictures/Getty Images