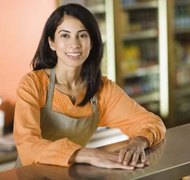 The process of registering an LLC in Texas simply consists of filing Articles of Organization with the secretary of state. But there are several steps prior to drafting the Articles that are necessary to garner the required information. You must also obtain written permission from the Texas Higher Education Coordinating Board, or THECB, to use the words "university" or "school" in your business. If you intend to use the words "bank" or "trust" -- or their equivalents -- you must get written permission from the Commissioner of the Texas Department of Banking.
Step 1
Establish an office in the state. The office must be located at a street address where service of process can be personally served on the company's registered agent during normal business hours. The office cannot be only a mailbox service or telephone answering service, but need not be the principal place of business.
Step 2
Choose an available name. You can have the Secretary of State provide a preliminary determination on the availability of your chosen name by calling 512-463-5555 and dialing 711 for relay services. Or you can email your name inquiry to corpinfo@sos.state.tx.us.
Step 3
Select a registered agent or hire a registered agent service. The registered agent can be a resident of Texas or a business entity registered to do business in the state that is available during normal business hours to accept service of process for lawsuits involving the company. You can also hire a registered agent service to act in this capacity. The registered agent must consent to this designation.
Step 4
Draft the Articles of Organization. Texas provides an online form for LLC Articles of Organization (see Resources). Print and complete this form. At least one LLC member or the agent must sign the form as the organizer.
Step 5
Submit the Articles of Organization plus one copy to the Texas Secretary of State, P.O. Box 13697, Austin, TX 78711-3697. Alternatively, fax the Article may to 512-463-5709 or deliver in person to the James Earl Rudder Office Building, 1019 Brazos, Austin, TX 78701. As of 2010, include a check for $300 filing fees. Filing fees paid by credit card are subject to a 2.7 percent convenience charge.
Tips & Warnings
Though not required to be filed with the state, your company should draft an Operating Agreement if there is more than one member.

The secretary of state will not certify that your name is not a violation of existing trademarks. Generally, trademark infringement can occur if your name is too similar to a competitor's such that consumers are likely to be confused between the two businesses. You can review Texas trademarks online (see Resources).
Photo Credits
Jupiterimages/Brand X Pictures/Getty Images