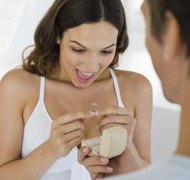 A divorce can be a fresh start for a couple. As part of moving on, either spouse may be eager to remarry. Knowing when you are allowed to legally tie the knot again in Georgia will help you avoid any complications in your new marriage.
Remarrying in Georgia
Unlike some states, Georgia does not impose a mandatory waiting period for spouses interested in remarrying immediately after divorce. However, because bigamy is illegal in the state, you must first make sure that your marriage is actually dissolved. In Georgia, a divorce is still pending -- and thus not final -- until a judge issues a judgment of divorce in the form of a divorce decree.
Photo Credits
Jupiterimages/Pixland/Getty Images