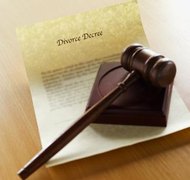 Couples have several options available to them as part of an Ohio divorce. Spouses who reach an agreement may qualify for the simplified dissolution process, but the state still recognizes both fault and no-fault grounds in standard divorces. Judges also look to state law for guidance in settling matters related to support, custody and property division.
Filing Requirements
Ohio has a streamlined process for getting a divorce where fault is not an issue and the parties agree on matters related to property and custody. This is known as Dissolution of Marriage and requires either spouse to have been a resident of Ohio for six months prior to filing. When couples cannot agree, one spouse may file for divorce alleging fault-based grounds, such as adultery or abandonment, or no-fault grounds of incompatibility or living separate and apart for one year. For divorces, the six-month residency requirement must be met by the person filing. Actions for both a dissolution of marriage or divorce must be filed in the Court of Common Pleas in the county where either spouse resides.
Property Division
Judges in Ohio divide marital property on the basis of what is fair and equitable between the parties. This does not always mean an equal distribution. Property acquired before the marriage or received by one spouse by inheritance or gift is referred to as separate property and is not subject to division. Ohio courts look to a list of factors to determine what is a fair split, including the length of the marriage and the assets and liabilities of each spouse.
Spousal Support
Ohio judges have the authority to award alimony, also referred to as spousal support. This decision depends greatly on the particular circumstances of each case; the award can be permanent or temporary and made in a lump sum or periodic payments, such as monthly payments. A judge will look to a set of factors for guidance including the incomes of both parties, earning ability of each spouse, length of the marriage and whether one spouse provided support for the education or career of the other spouse.
Custody
Judges are required to make custody determinations based on what is in the best interests of the child. This can seem like a vague standard, but Ohio courts are legally required to consider certain factors. These include the mental and physical health of the parents and child, which parent is most likely to honor a custody order, and the child's adjustment to home, school and community. While shared custody is preferred, the court may consider each spouse's ability to cooperate, the presence of any domestic abuse, and the geographic distance between the parents as factors in determining whether shared custody is in the child's best interest.
Child Support
If the court orders sole custody, the noncustodial parent generally has visitation and will be required to pay child support. The support obligation is calculated according to the Income Shares Model. The model first combines the incomes of both parents for a total support obligation number. The actual support amount to be paid by the noncustodial parent is the percentage of his income to the total obligation. If either spouse's financial circumstances change, a modification or termination may be sought by motion to the court or requested through the Child Support Enforcement Agency's administrative review process.