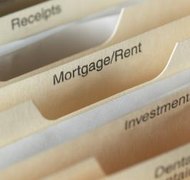 Bankruptcy gives a debtor a fresh start by helping him dig out from a debt hole. There are several types of bankruptcy a debtor can file, depending on his situation. Bankruptcy is governed by federal law, but it has certain state-specific variations, including income qualifications and lists of what property is protected from sale during certain bankruptcy proceedings.
Chapter 7 Vs. Chapter 13
One of the first decisions a debtor must make is which type of bankruptcy to file. In Colorado, individual debtors file Chapter 7 bankruptcy more frequently than any other type of bankruptcy. Chapter 7 involves a liquidation, or sale, of the debtor's nonexempt assets. Once the assets are sold by a court-appointed trustee, the trustee uses the sale proceeds to pay creditors. However, debtors must meet certain financial qualifications before filing. If a debtor does not qualify to file under Chapter 7, she may qualify to file under Chapter 13. Under Chapter 13, a debtor makes payments to a court-appointed trustee over three to five years and the trustee uses those payments to pay creditors in accordance with a court-approved repayment plan.
Qualifying for Chapter 7
A debtor can qualify to file Chapter 7 if he makes less than Colorado's median income. If he makes more than the median income for his family size, he must pass a "means test," which considers his current monthly income, certain expenses and the amount he owes on certain types of debts.
Filing for Chapter 7
Colorado debtors file bankruptcy cases in the U.S. Bankruptcy Court for the District of Colorado, located in Denver. To begin a case, a debtor must file all the necessary paperwork and pay the filing and administrative fees. Some of the required paperwork includes a statement that the debtor has attended credit counseling, a statement of her current monthly income and a schedule of her assets and liabilities.
Stay and Sale
When a debtor files a bankruptcy case, he receives an automatic stay, which halts all collection efforts against him, and this stay can only be removed under certain limited circumstances. Thus, creditors must cease collection efforts while your case proceeds. As part of your case, the trustee will sell your nonexempt property, if you have any. Colorado law provides a list of exemptions and also permits debtors to use certain federal exemptions. For example, as of 2012, Colorado debtors are allowed to keep up to $60,000 of equity in their home -- $90,000 under certain circumstances. A debtor can also keep some clothing, food, fuel and household goods. Often, all of a debtor's assets are exempt, leaving the trustee with nothing to sell.