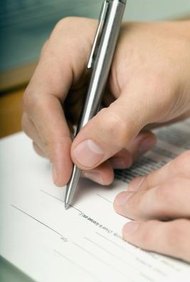 Once you have decided to end your marriage, there are several steps you must take to begin the divorce process. Exact procedures vary by state, but the overall format is similar in all jurisdictions. If you decide to represent yourself, following the proper procedure will ensure your divorce complaint is accepted by the court. Should you choose to hire an attorney, it is still a good idea to familiarize yourself with the filing process. Following the right steps will save you time and lower the risk of the court dismissing your complaint.
Meet Your State's Residency Requirements
Each state has a minimum residency requirement for divorce, ranging from six weeks to two years. This means that the individual filing the complaint or petition must have lived in the state for a certain length of time. In New Jersey, for example, it is one year. In Ohio, the residency requirement is six months. If you have recently moved to a different state, you must wait the required period of time before filing your divorce complaint.
Choose Fault or No-Fault
Traditionally, a divorce complaint required you to list the reasons for the divorce. Also known as the "grounds" for divorce, one party would allege some kind of wrongdoing by the other side. Common grounds included adultery and extreme cruelty. Because misconduct was often difficult to prove, no-fault divorce was created. Unlike a fault-based complaint, no-fault divorce requires no proof of wrongdoing. In a no-fault complaint, the filing party must still state his grounds for divorce, but does not have to present evidence to support them. Common grounds for no-fault divorce include incompatibility, irretrievable breakdown of the marriage and irreconcilable differences. No-fault divorce is available in all 50 states, with some states offering no-fault as the only option. Many states require the couple to live separately for a time before filing a no-fault divorce, which can create delay. To avoid waiting, some couples decide to file for a fault-based divorce.
Gather Required Documents
Some states require additional documents beyond the complaint. If you have minor children, for example, you might be required to file a proposed parenting plan and certain health insurance forms. In some jurisdictions, both spouses must file an affidavit listing their monthly household expenses. Check with your court for a list of required documents.
Pay the Appropriate Filing Fees
Fees vary, but the cost to file a divorce complaint generally ranges between $100 and several hundred dollars. Some jurisdictions charge more if you have minor children or if you choose to file a fault-based divorce. If you cannot afford the filing fee, you can ask the court to waive it. To obtain a waiver, you must submit an affidavit of indigency showing that your monthly income is below a specific threshold.
Serve the Other Party
The filing party must show the court that he delivered a copy of the complaint to the other side. This "service of process" ensures fairness by giving the opposing party an opportunity to respond. Service of process can be accomplished in a number of ways, from certified mail delivery to hiring a private process server to deliver the complaint in person. Some states allow the responding spouse to waive service, which saves time and expense. Waiver of service is common with no-fault divorce filings.
Photo Credits
Medioimages/Photodisc/Photodisc/Getty Images