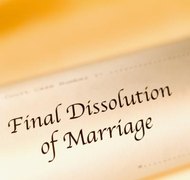 Divorce requires many changes, but changing your name is optional. You can choose to keep your husband's name after your divorce, but if you want to stop using it or go back to your maiden name, you'll need to obtain a legal name change from the Utah court. This is most often done at the time of divorce, but you can also change it later.
Name Change With Divorce
The simplest way to change your name because of divorce is to change it as part of the divorce process. You must ask the court to restore your legal name to the name you had before your marriage by including your request in your divorce petition. Your petition is the document you initially file with the court requesting a divorce, along with other matters you want the court to decide, such as child custody and spousal support. If you forget to put this in your petition, you might be able to revise or amend your petition at a later date to include your name change request. You must include the complete legal name that you'd like to use going forward.
Divorce Decree
Your family court judge includes the order for your name change as part of your divorce decree, and you can use the divorce decree as proof of your name change. If you don't change your name at the time of divorce, you may have to file a name change petition later and follow Utah's regular name change process. Before pursuing this option, you may wish to contact the family court that issues your divorce decree to see if you can modify your divorce decree instead.
Petition for Name Change
If you choose to change your name after your divorce by following Utah's regular process, you must begin your name change case by obtaining a statement from the Utah Department of Corrections certifying that you are not listed on the state's sex offender registry. Utah law may prevent your name change if you are listed on this registry. After you obtain the certification, file a petition for name change with the district court in the county where you live. Your petition must include information such as your current legal name along with the name you want to use. You must certify to the court that you have been a resident of the county in which you are filing your petition for at least one year, and your petition must be notarized. You must attach your sex offender certification to your petition.
Limitations
The court cannot issue a name change for you if you are involved in any court actions or proceedings at the time you apply for the name change. If you do have an ongoing lawsuit, you may have to wait until the end of the case before you can change your name through this process. You must also disclose to the court whether you are on probation or parole at the time of your name change petition.
Reasons for Change
Most name changes are granted unless the court decides the petitioner wants to change his name for an inappropriate reason, such as fraud. As part of your name change petition, you must explain to the court why you want your name changed. Utah will not allow you to change your name if you are doing it to avoid creditors. In some unusual cases, the court may want other parties to have a chance to oppose your name change, so it may require you to provide notice to those other parties, and it may conduct a hearing where you and the other parties may be heard.