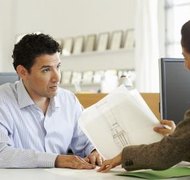 Bankruptcy can wipe the debt slate clean, but it can also result in loss of property to a court-appointed trustee. If your company rewards work and loyalty with a pension plan, you may be able to protect some or all of that asset from seizure in bankruptcy. It all depends on whether the plan meets certain qualifying guidelines; even if the plan does not qualify, it may be possible to exempt at least a portion of it under either federal or state exemptions.
Bankruptcy Chapters
A debtor filing for bankruptcy requests protection by a court from collections, judgments and creditor lawsuits. In a Chapter 7 bankruptcy, a trustee will seize non-exempt property for the repayment of creditors. In Chapter 13, the debtor repays a portion of his debts to creditors through a three- to five-year plan set up by the trustee; no property is seized.
Exemptions
The federal law governing bankruptcy establishes property exempt from seizure in Chapter 7 bankruptcies. Individual states have their own exemption schedules; some states allow debtors to choose between federal and state schedules, while others require the use of the state schedule. For a Chapter 13 bankruptcy, a trustee may only consider "disposable" assets available when drawing up a repayment plan. The debtor can protect exempt assets and income from inclusion in the plan.
Pensions and Vesting
Companies that offer pension plans may do so on a "term-vested" or "deferred benefit" basis. This means the employee must work a minimum length of time to be entitled to the entire pension balance -- the benefit is deferred until the plan is fully vested. If a debtor with a term-vested pension plan files for bankruptcy, he may be able to exempt a portion, or all, of the plan assets, depending on whether the plan meets certain guidelines.
ERISA Plans and the Law
An important Supreme Court decision in 1992 covered employer-provided plans that meet qualifications of the Employee Retirement Income Security Act of 1974. These ERISA-qualified plans are not considered a part of the bankruptcy estate -- the property that is available to the trustee in a Chapter 7 or Chapter 13 bankruptcy. Therefore, technically, there is no need to claim such a plan under a schedule of exemptions.
Other Protected Plans
Other plans that can be held out of the bankruptcy estate include 401, 403 or 408 tax-exempt retirement plans, some government pensions, plans that feature deferred compensation, and retirement plans offered by churches, governments or any other tax-exempt organization. Whether or not these plans require term-vesting, they're not available to a bankruptcy trustee.
Non-Qualified Plans
Certain plans don't qualify for bankruptcy exemptions at all, whether or not they're term-vested plans. These include employee stock purchase plans, inherited IRAs, plans not conforming to pension guidelines set by the Internal Revenue Service, and deferred compensation plans. Nevertheless, a debtor may claim a portion of a non-qualifying retirement plan as necessary to meet essential personal expenses, or use a "wildcard" exemption, which allows the protection of any kind of property up to a certain dollar amount.