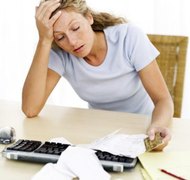 If debts are mounting, Texas residents have the option of protecting themselves through bankruptcy. In order to file for Chapter 7 bankruptcy, you will have to pass a means test that determines eligibility. Otherwise, you can file under Chapter 13. Online document providers offer help with both types of filing.
Chapter 7 and the Means Test
When filing for Chapter 7 bankruptcy, you are asking a federal court for an automatic stay of collection actions against you and to discharge, or cancel, those debts that can legally be discharged. Typically, you turn over non-exempt assets to a court trustee, who then sells those assets to pay your creditors with a valid claim. In accordance with the Bankruptcy Abuse Prevention and Consumer Protection Act, passed in 2005, you must qualify for Chapter 7 bankruptcy by passing a means test. In Texas, that means calculating your average income over the last six months and subtracting certain expenses, such as food and rent costs. If you fall below the median income for a family of your size in your state, you qualify for a Chapter 7 case. If not, you may file for Chapter 13, which requires a full or partial repayment of debts.
Chapter 13 Repayment
In Chapter 13 bankruptcy, you set up a schedule of payments to your creditors. The court approves the plan for full or partial repayment, which is administered by a court trustee. Chapter 13 plans generally last three to five years; if you successfully complete the plan, the court discharges any remaining eligible debts; nondischargeable debts include federal or state taxes, child support and student loans. As in a Chapter 7 bankruptcy, you must disclose your income, assets, debts and expenses to the court, and creditors are allowed to file claims with the bankruptcy court for any debts you owe them. Filing for Chapter 13 bankruptcy may also allow you to keep your home, depending on the circumstances; for example, if your lender has not yet foreclosed on the mortgage.
Homestead and Other Exemptions
The state of Texas exempts certain property from seizure by the bankruptcy trustee. This includes your primary home, as long as you've lived in Texas for at least 24 months and have applied for a Residential Homestead Exemption before filing the bankruptcy case. If you've fallen behind on the mortgage, or loan balance is higher than home's market value, you can voluntarily surrender the home to discharge the debt. You may also exempt a car, furniture, clothing, heirlooms, tools of your trade, retirement accounts, unemployment or work compensation benefits, household pets, 12 head of cattle and 120 fowl.
Governing Law and Filing
In Texas, as elsewhere, bankruptcy is governed by federal law. There are bankruptcy exemptions available under federal law and some states, including Texas, allow you to claim federal instead of state exemptions. You file your bankruptcy case in the federal judicial district - there are four in Texas - that services your residential location. Some locations require filings in one courthouse and hearings in another. A resident of Abilene in the Northern District, for example, would file her bankruptcy petition and any other documents in the Abilene bankruptcy courthouse and attend hearings in the Lubbock bankruptcy court.