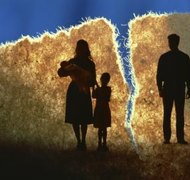 There are ways to divorce someone for low cost, but most require that both spouses cooperate with the divorce process. One option is divorce by default; another is divorce by consent decree. Both methods may still require that you pay the court's filing fee, as well as a sheriff's office or a private process server to properly deliver the papers to your spouse. But if you both agree on the details, these can be your only expenses.
Agree to Divorce
Divorcing for a low cost requires you to avoid attorney fees and those charged by other professionals. If you file for divorce and your spouse fights the process, you may end up needing an attorney to negotiate the divorce on your behalf. If things get really nasty, you may have to shell out money for services such as private investigation. Such costs can be avoided if you and your spouse mutually agree to end the marriage.
Agree on the Details
After you agree to divorce, you must address the details of separating your lives. You must resolve issues such as how to divide your jointly owned property, where the children will live and who will pay support. You also must set up a workable visitation schedule for the non-custodial parent. Attorney fees can add up quickly if you haggle about these issues. In addition to time spent negotiating with your spouse and his attorney, many states, such as Minnesota and Florida, order couples to attend mediation when they can't reach an agreement on their own. If your court does not provide these services free of charge, mediators often charge by the hour. You can save a significant amount of money by working out the terms of your divorce on your own.
Default Divorce
One of the least expensive ways to dissolve your marriage is by default. The divorce process begins when you file your petition with the court. Usually, the next step is for your spouse to file an answer to your petition. If he doesn't do so within your state's required number of days, you are granted a divorce by default and the process is over with no additional expense. Both spouses should understand, however, that in this option, the court typically grants everything requested in the divorce petition, since one of the spouses has no response on file objecting to any of the requests.
Divorce by Consent Decree
Divorce by consent decree takes a little longer and requires a little more effort. You and your spouse must write down all the agreed-upon terms of your divorce. This includes property division, such as who keeps the house and whether that spouse will buy out the interest of the other. It also may include spousal support, if any. If you have children, you must provide details about your parenting plan -- where your children will live, a visitation schedule for the other parent and child support. In some states, such as Arizona, you must attend a parenting class and indicate in your agreement that both you and your spouse have complied with this requirement. Typically, the agreement must be signed by both of you before a notary public and filed with the court. When a judge signs off on it, the divorce process is finished with no additional expense.
Indigent Fee Waivers
Even if you handle your own divorce without any attorneys or any other professionals, you still may have to pay fees to file your petition, as well as costs associated with having someone deliver the papers to your spouse in the legally required manner. These fees, however, can be waived if the court determines that you're indigent and financially unable to pay them. Each state has its own criteria for determining indigency; for example, you may have to provide proof of income or documentation showing that you're already qualified for other assistance such as housing and food.