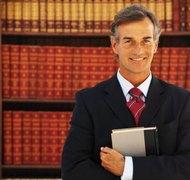 Making the choice to file for bankruptcy is difficult; once the decision has been made, it is important to select the right bankruptcy attorney to handle your case. With no shortage of television commercials or billboards advertising attorney services, the options may seem overwhelming. By keeping a few simple things in mind, it is possible to choose the right bankruptcy lawyer for your case.
How to Find a Bankruptcy Attorney
Flipping through the yellow pages to find an attorney is one option, but it is not the only one. Many local bar associations offer referrals to consumers for attorneys and can likely offer the names of several who concentrate on bankruptcy cases. The website of the National Association of Consumer Bankruptcy Attorneys offers an attorney search which will return results based on geographic location. Of course, if you know someone who has filed bankruptcy, ask them about the attorney they chose and their experience with them. Once you have the name and contact information for a bankruptcy attorney in hand, schedule an initial consultation to meet them and find out more.
Free Consultations
Seek an attorney who will offer a free initial consultation. Many bankruptcy attorneys require a deposit before they will actually start working on your case, but offer to sit down and have an initial face to face conversation with a potential client for free. Many people who want to file for bankruptcy aren't sure which chapter they should file under or have questions about what property they may lose in the process. A free initial consultation will allow you the chance to talk to your potential attorney about what your best options are, or if you even qualify to file. A free initial consultation also affords you the opportunity to meet the attorney in person. If hired, you may be spending quite a bit of time with him or his support staff; thus, it is important to determine whether you feel comfortable with each other.
Bankruptcy Experience
Like doctors, many lawyers specialize in a particular area of expertise. Bankruptcy is a very complex subject, and it is necessary to choose an attorney who understands the specific details of bankruptcy law and procedure. During your initial consultation, ask whether the attorney has experience in all areas of bankruptcy. Discuss the attorney's background and ask him if bankruptcy cases are a significant part of his practice, or just one of many types of law he handles. Because many firms often send less experienced attorneys to handle cases once a client has signed up, it's important to ask whether the attorney you meet will be the same attorney that actually handles your case from start to finish.
Attorney's Fees
Legal fees for bankruptcy cases will vary from attorney to attorney and differ based on region as well. During your meetings with potential attorneys, find out how much money you will need to pay them up-front to get your case started. Also, ask what the total attorney's fee will be, if there will be additional charges for photocopies or postage, and what the procedure is for paying the attorney's fee in installments. While fees vary, there will probably be a standard range for a bankruptcy attorney's fees. If you encounter an attorney whose fees are significantly lower than the range, be wary, as it may be an indication that they are less experienced in bankruptcy cases.